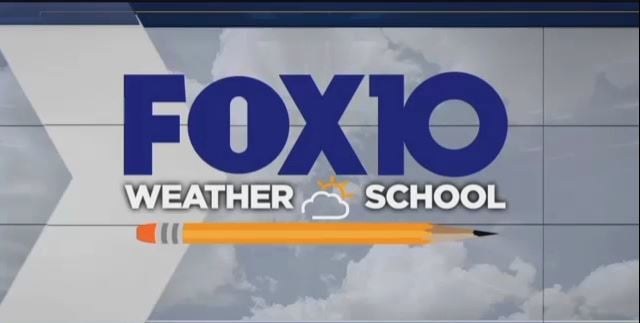 FOX10 weather school is on the road!

The presentation from our team of meteorologists is designed to help kids know what to do in weather emergencies. Topics cover all aspects of severe weather and what to do when that weather strikes.

Our new STORMtracker vehicle will also be on display! It's a state-of-the-art vehicle purpose-built for tracking storms. The kids will be able to check out all the gadgets on the vehicle which will bring our viewers closer than ever to the weather impacting our area.

FOX10 weather school is part of our commitment to the community. Our team of meteorologists will be visiting nearly 20 schools through the end of April.
Schedule of School Visits
Monday 27th Forest Hill Elementary
Tuesday 28th George Hall Elementary
Wednesday 29th J E Turner Elementary
Friday 31st Taylor-White Elementary
Monday April 3rd Kate Shepard Elementary
Wednesday April 5th Chickasaw Elementary
Thursday April 6th Bayside Academy
Friday April 7th Saint Paul's School
Monday April 10th Saint Pius School
Tuesday April 11th Bay Shore Christian
Wednesday April 12th Saint Pius School
Thursday April 13th Bay Minette Intermediate
Monday April 17th Bay Minette Intermediate
Thursday April 20th Rockwell Elementary
Friday April 21st Rockwell Elementary
Monday April 24th Elsanor Elementary
Tuesday April 25th Elberta Elementary
Wednesday April 26th Hollinger's Island Elementary
Thursday April 27th Holloway Elementary
Friday April 28th Mary B Austin School