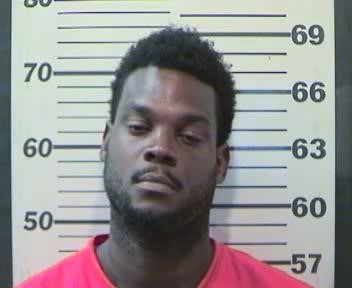 FOX10 News Fugitive Files suspect Troy Moore (Image: Mobile Metro Jail)
MOBILE, AL (WALA) -
It didn't take long for last week's FOX10 News Fugitive Files suspect to wind up behind bars. Now, Mobile Police need your help to find a repeat customer here on our crimefighting series. I first profiled Troy Moore 5 years ago. Police say this time Moore, also known as Fat, stole money from a woman in the Ridgewood Mobile Home Park, then attacked the woman's husband.
"When our female victim actually started to take photos of Mr. Moore, apparently he didn't like that, and he assaulted the woman's husband at that particular time," said Mobile Police Officer Donald Wallace.
Moore is 27 years old, 5 feet 9 inches tall and weighs 225 pounds. If you know where to find him, call the FOX10 News Fugitive Files/Crimestoppers Hotline at 251-208-7000.
Police say Moore has a criminal history dating back to 2009 as a juvenile, and has arrests as an adult, dating back to 2011. He had just been released from jail five days before this latest incident. He should be considered armed and dangerous. You know what to do. Turn him in. Again.
All content © 2017, WALA; Mobile, AL. (A Meredith Corporation Station). All Rights Reserved.