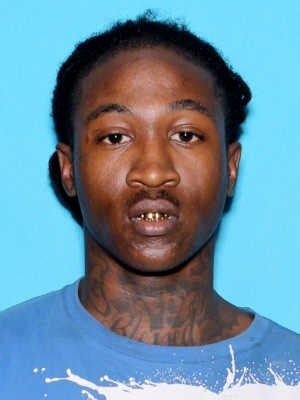 FOX10 News Fugitive Files suspect Quadrey Law (Image: Mobile Police)
MOBILE, AL (WALA) -
702 suspects have been arrested after appearing on FOX10 News Fugitive Files. Now, the law is looking for Law. Specifically, Quadrey Law.
Mobile Police say he's wanted for burglary and reckless endangerment. It has to do with a shooting that happened July 15 on Brooke Avenue, off DIP and McVay when police say, Law fired into a home that had his child, the mother of his child and her new boyfriend inside.
"This is fairly a unique case being that you would shoot into a residence with your own child in it and it just doesn't make any sense why someone would do that, other than you are a dangerous person and need to be taken off the street," said Mobile Police Officer Donald Wallace.
Law is 20 years old, 5 foot 10 inches tall and weighs 165 pounds. As you can see in his picture, he has tattoos on the neck and also on his chest, as well as gold front teeth and braided hair. If you've seen him, call the FOX10 News Fugitive Files/Crimestoppers Hotline at 251-208-7000. He has an arrest record dating back to 2015 for carrying a pistol without a permit. He might be driving a red, 2014 Ford Mustang. Police consider Law armed and dangerous.
All content © 2017, WALA; Mobile, AL. (A Meredith Corporation Station). All Rights Reserved.