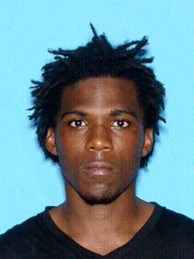 FOX10 News Fugitive Files suspect Devonta Butler (Image: Mobile Police)
MOBILE, AL (WALA) -
Mobile Police say our FOX10 News Fugitive Files' suspect shot a man on July 22 when the victim walked past him. But it didn't end there.
Investigators say when the victim tried running away and fell, Devonta Butler walked up to the victim and shot him again, for a total of 5 times. This happened at 3105 Dauphin Street. Police say Butler should be considered armed and dangerous.
I asked, "This wasn't a random shooting?". "No, they know each other and they have been feuding over money for some time," said Mobile Police spokesperson Charlette Solis.
Butler is 22 years old, 5 foot 10 inches tall and weighs 170 pounds. If you know where he is, call the FOX10 News Fugitive Files/Crimestoppers Hotline at 251-208-7000.
Police say Butler's arrest record dates back 3 years on charges that include possession of a controlled substance, possession of marijuana and theft. You know what to do. Turn him in.
All content © 2017, WALA; Mobile, AL. (A Meredith Corporation Station). All Rights Reserved.