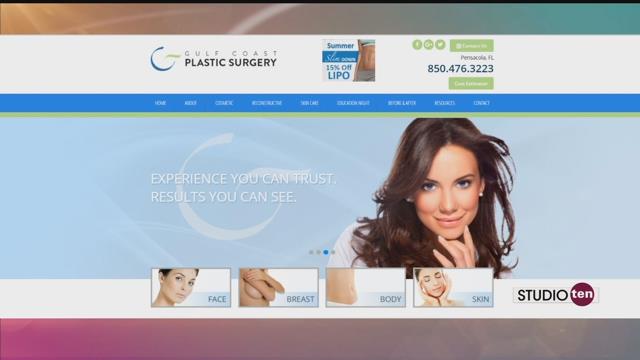 PENSACOLA, FL (WALA) -
Now is a great time to take advantage of a special going on at Gulf Coast Plastic Surgery. The Summer Slim Down Special is available now through September 15! Make your appointment today!
Gulf Coast Plastic Surgery
Peter Butler, M.D.
Jocelyn Leveque, M.D.
543 Fontaine Street
Pensacola, FL 32503
850-476-3223 (office number)
www.gulfcoastplasticsurgery.com OR www.mygcps.com
SPECIAL EVENT INFORMATION:
| | |
| --- | --- |
| | Save 15% on Liposuction |
| | |
| | August 1 - September 15 |
| | |
| | Don't try to freeze fat away. Get rid of fat for good, with real MicroAire Liposuction at Gulf Coast Plastic Surgery. During our Summer Slim Down special, save 15% on the surgical fees from Dr. Butler and Dr. Leveque, for all liposuction procedures. MicroAire liposuction is available in-office for smaller procedures, or at the hospital of your choice, for larger or multiple location procedures.Call today to schedule your Summer Slim Down consultation at Gulf Coast Plastic Surgery. |
| | |
| | Offer valid August 1, 2017 - September 15, 2017. Certain conditions apply. |
Fall Education Night is scheduled for Monday, October 2. It will be held at the Hilton Garden Inn in Pensacola, 5:30-8:00 p.m. Guests will learn about the latest in plastic surgery in a casual and relaxed setting. This is a great opportunity to meet Drs. Leveque and Butler and get answer to your questions. All the those that attend receive a gift certificate for a free consultation ($150 value). The event is free, but registration is required. Go to our website, www.gulfcoastplasticsurgery.com or www.mygcps.com for more details.
All content © 2017, WALA; Mobile, AL. (A Meredith Corporation Station). All Rights Reserved.