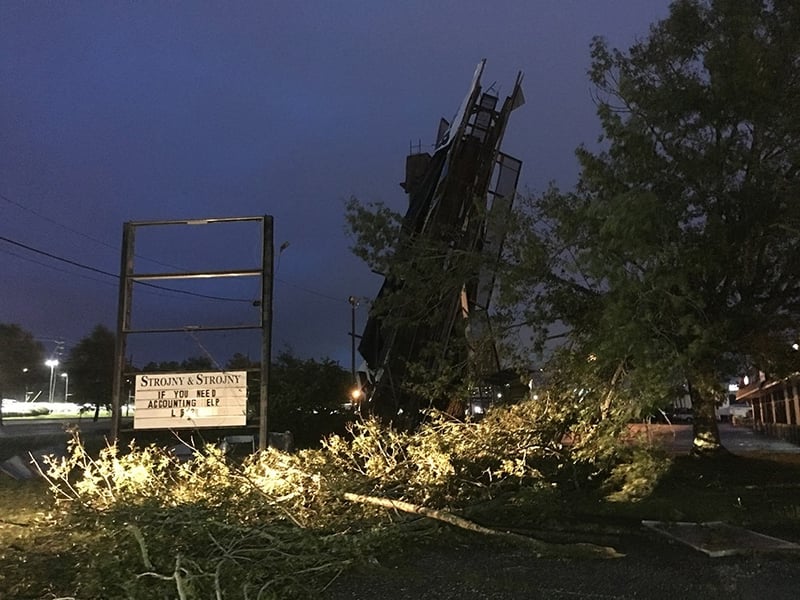 A large billboard was downed in west Mobile off Airport Boulevard. (FOX10 News)
MOBILE, AL (WALA) -
The National Weather Service verified on Sunday that it was an EF-0 tornado that downed a large advertising billboard seen from Airport Boulevard in west Mobile Saturday afternoon.
The twister only existed for a brief time with a 0.3 mile path, as Hurricane Nate churned closer to its landfalls in Louisiana and Mississippi, according to the National Weather Service.
The NWS survey summary: "A brief EF-0 tornado touched down on Portside Court and traveled northwest, lifting near the intersection of Airport Blvd and
Border Circle West. The tornado downed several large oak tree limbs. A large billboard was downed and twisted near Airport Blvd. A small professional building experienced shingle damage, damage to the facade,and broken windows. Just north of Airport Blvd, windows were blown out of vehicles at a car dealership. The dealership also suffered some window damage."
An EF-0 tornado is classified as "weak," with winds in the 65 to 85 mph range.
All content © 2017, WALA; Mobile, AL. (A Meredith Corporation Station). All Rights Reserved.