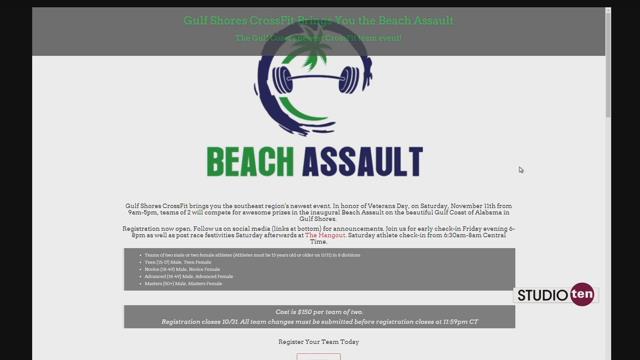 Gulf Shores CrossFit brings you the southeast region's newest event. In honor of Veterans Day, on Saturday, November 11th from 9am-5pm, teams of 2 will compete for awesome prizes in the inaugural Beach Assault on the beautiful Gulf Coast of Alabama in Gulf Shores.
Registration is now open. Follow Gulf Shores CrossFit on social media for announcements. Join them for early check-in Friday evening 6-8pm as well as post race festivities Saturday afterwards at The Hangout. Saturday athlete check-in from 6:30am-8am Central Time.
•Teams of two male or two female athletes (Athletes must be 15 years old or older on 11/11) in 8 divisions
•Teen (15-17) Male, Teen Female
•Novice (18-49) Male, Novice Female
•Advanced (18-49) Male, Advanced Female
•Masters (50+) Male, Masters Female
Cost is $150 per team of two.
Registration closes 10/31. All team changes must be submitted before registration closes at 11:59pm CT
For all the information you need and to register visit:
http://gulfshoresbeachassault.com/