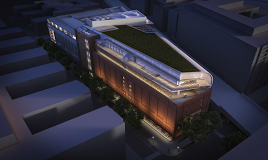 (WALA) -
The long-awaited Museum of the Bible is now open. The museum brings a collection of sacred scriptures to life by using cutting-edge technology.
With eight floors in total, the museum is focused around three main floors: the history floor, the impact floor, and the narrative floor. The history floor tells the story of the Bible through historical artifacts; about a thousand biblical artifacts are displayed.
The museum features a 30-minute, walk-through experience of the Old Testament on the third floor. The narrative expedition takes groups of 30 people through the exhibit brought to life with special effects using lights and holograph-like images.
Visitors can also sit in a small theater seating about 100 people where the New Testament is condensed into a 12-minute film on a 180-degree screen.
Other highlights include a 140-by-15-foot digital arcade ceiling, and a theater with 3-D digital mapping.
The project is largely funded by the conservative Christian owners of the Hobby Lobby crafts chain -- who say the hope is to provide something for visitors of all faiths. But skeptics call the project a Christian ministry disguised as a museum.
The Museum of the Bible opens Friday. Admission is free.