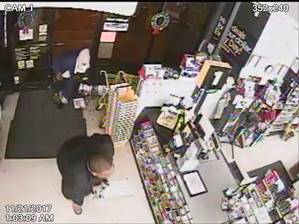 Surveillance image of 2 burglars inside a Dollar General (Image: Mobile PD)
MOBILE, AL (WALA) -
FOX10 News Fugitive Files usually shows you the picture of a known suspect and asks for your help to find him. But in case, we have two suspects but no names.
Mobile Police say surveillance video from the Dollar General store at Snow and Tanner Williams roads early Tuesday morning, November 21 shows 2 men using a hammer to break the front glass door and then smashing their way into the cigarette case before escaping.
All police know is that one man is heavy set; one is thin.
The larger suspect is wearing a black jacket, black pants and is wearing a toboggan hat.
The thin suspect is using a shirt to cover his face. He's also wearing dark pants and maybe a blue jacket.
If you recognize them, call the FOX10 News Fugitive Files/Crimestoppers hotline at 251-208-7000.
All content © 2017, WALA; Mobile, AL. (A Meredith Corporation Station). All Rights Reserved.