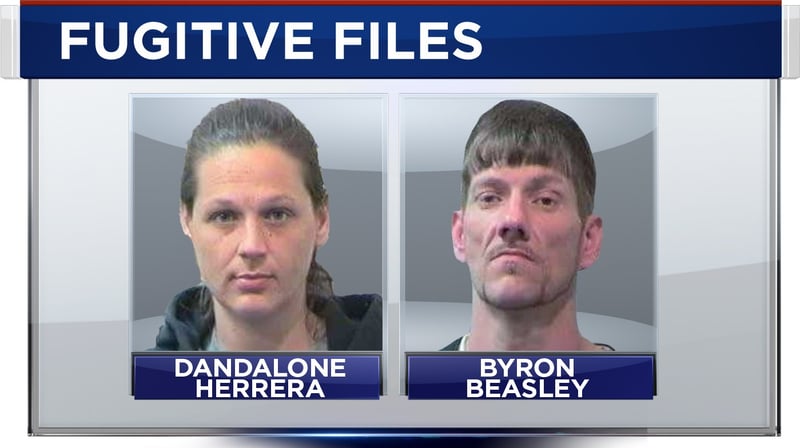 This week's FOX10 News Fugitive Files suspects. (FOX10 graphic)
MOBILE, AL (WALA) -
FOX10 News Fugitive Files involves the case of the stolen steaks. It wasn't a crime that was well done.
Mobile Police want to find Dandalone Herrera and Byron Beasley. Herrera is accused of trying to shoplift several packages of meat from the Rouses on Theodore Dawes Road on November 30. When a security guard went to the parking lot to try to stop her, police say the getaway car driver, Beasley shoved the guard so they could get away. But it didn't end there. They wrecked while trying to make their escape, though no one knew about the crime at the time. They had to be hospitalized.
"Once they got to the hospital, the female suspect, she immediately fled, fled the scene and left the hospital and the other suspect, he suffered from a fractured ribs and he got treatment and soon after that, also fled the hospital," said Mobile Police spokesperson Charlette Solis.
Herrera is 32 years old, 5 foot 6 and weighs 125 pounds. Beasley is 37 years old, 6 foot 3 and weighs 200 pounds.
If you know where to find either one or both of them, call the FOX10 News Fugitive Files/Crimestoppers Hotline at 251-208-7000.
Herrera has a prior arrest record for domestic violence. Her last known address was Moss Point, Mississippi. Beasley's been charged in the past with domestic violence and theft. His last known address was in Grand Bay.
All content © 2017, WALA; Mobile, AL. (A Meredith Corporation Station). All Rights Reserved.