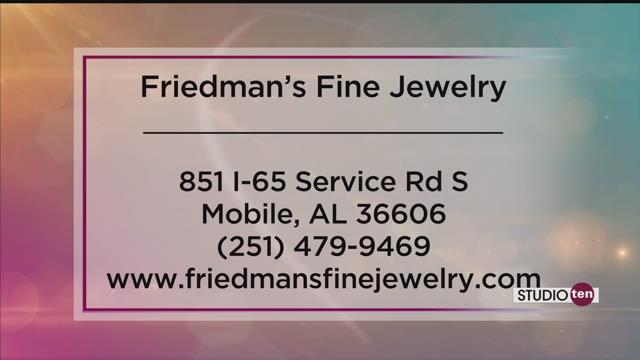 MOBILE, AL (WALA) -
Shop Friedman's for Christmas!
Take advantage of the December sale just in time for the holidays! Free gift wrapping, on-site repairs and custom orders all available!
Friedman's is a family-owned, 3rd generation fine jewelry store! Come meet the friendly staff including Don Johnson, General Manager for more than 35 years!
Contact Friedman's today!
Phones
Online Orders: (888) 605-3935 (Mon-Fri 9am-5pm)
Augusta Store: (706) 733-4090 (Mon-Sat 9:30am-7pm)
Email Addresses
Friedman's Jewelers: info@friedmans.com
Store Address
Friedman's Jewelers
2745 Washington Road
Augusta, GA 30909
Hours of Operation
Websales: Mon-Fri 9am-5pm
Showroom: Mon-Sat 9:30am-7pm

All content © 2017, WALA; Mobile, AL. (A Meredith Corporation Station). All Rights Reserved.