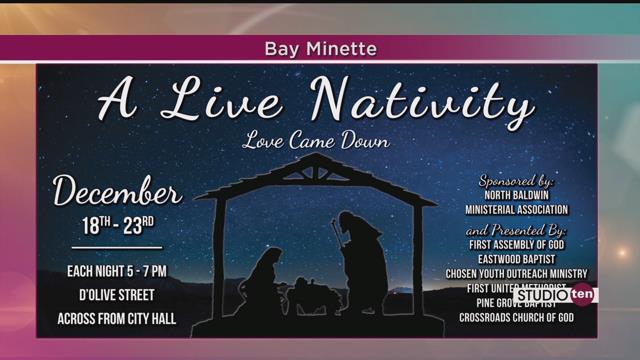 There will be a very special display set up this Christmas in Bay Minette: a live nativity sponsored by the North Baldwin Ministerial Association.
The creche (provided by First Presbyterian Church) will be set up on property on D'Olive Street in heart of downtown Bay Minette. Each night the live nativity will be interpreted by a different church or youth organization. The display will be available Dec. 18-23 and people can ride by to view the exhibit or park and walk around the display for a close-up view.
'O Come Let Us Adore Him' live nativity schedule of participating groups include:
Dec 18--First Assembly of God
Dec 19--Eastwood Baptist
Dec.20--Chosen Youth Outreach Ministry
Dec 21--First United Methodist
Dec 22--Pine Grove Baptist
Dec 23—Crossroads Church of God
The hope is to grow the event to include even more nights and churches in coming years.
The display will be open from 5pm to approximately 7pm each night. Make sure to stop by and soak in the spirit of Christmas!