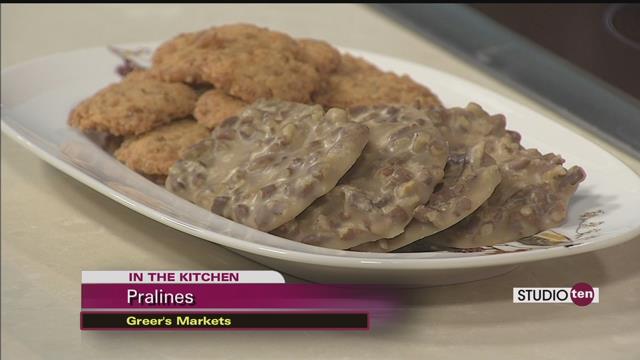 Lucy's Mae Mae's Cheese Crispies and Pralines
Lucy Greer shares two recipes sure to be a hit over the holidays.

Mae Mae's Cheese Crispies
INGREDIENTS:
2 stick Butter, unsalted softened
1 ¾ cup all-purpose flour
2 cup sharp cheddar cheese shredded
1 cup parmesan cheese shredded
2 cup rice krispies cereal
1 teaspoon dried dill
1 teaspoon cayenne pepper
½ teaspoon Garlic power
¼ teaspoon kosher salt
STEPS:
Beat butter in a large bowl for a few minutes until fluffy.
Add flour, dill, cayenne, garlic powder, and salt. Mix until combined.
Add cheddar and parmesan cheese. Mix until incorporated and the dough starts to stick together.
Add rice krispies, and fold in with a spatula or your hands.
Roll 1 tsp. of dough into a ball, then flatten in the palm of your hand.
Place on a cookie sheet that has been sprayed with non stick cooking spray. Continue with the rest of the dough.
Bake at 375 for 9 minutes. Serve warm, or allow to cool and serve.
Lucy's Pralines
INGREDIENTS:
1 cup light brown sugar
1 cup sugar
½ cup evaporated milk
1 ¼ chopped pecans
½ stick butter
1 teaspoon vanilla extract
1/8 teaspoon salt
STEPS:
Place both sugars, salt, evaporated milk, and butter in a heavy saucepan.
Over medium heat stir mixture constantly with a wooden spoon until sugar dissolves.
Increase heat to high, and boil for 2 minutes until thick and bubbly.
Remove from the heat and add vanilla and pecans. Quickly stir with a wooden spoon for a few minutes until the candy is slightly thick and loses its gloss.
Drop quickly by teaspoon onto parchment paper. You may need to use another teaspoon to help push the candy onto the paper. If the candy becomes too stiff, add a few drops of hot water and stir. If you desire a large praline, drop by tablespoons.
Allow to cool completely, remove from parchment paper and serve.
Greer's Markets (multiple locations)
greers.com/
Catering inquiries: 251.380.7781
Email: catering@greers.com
Greer's now offers online ordering with store pickup at several of its markets!
Greer's also offers grocery delivery online through Instacart!

All content © 2017, WALA; Mobile, AL. (A Meredith Corporation Station). All Rights Reserved.