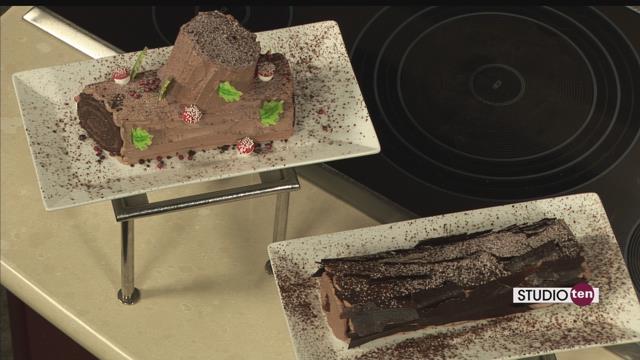 Yule Log
Chocolate Frangipane
INGREDIENTS:
11 oz. Almond paste
8 oz. butter, softened
3 oz. granulated sugar
1 c liquid egg whites
2 oz. cake flour
1/2 T vanilla extract
1 ea. whole vanilla beans
1/4 C cocoa powder
1/4 t almond extract
STEPS:
Cream the almond paste, butter, and sugar together in a stand mixer using the paddle attachment. Scrape down the sides to ensure there are no lumps.
Add the egg whites, extracts, and vanilla bean seeds (slice down the center and scrape out the seeds)
Mix until fully combined. Scrape the bowl to ensure it is all combined.
Add the flour and cocoa powder and mix until combined.
Prepare a sheet pan with parchment and pan spray.
Spread a very thin layer of cake batter onto the pan.
Bake at 350F until it springs back when you touch the center of it.
Remove from the oven and dust with cocoa powder. Immediately place another piece of parchment on top and begin rolling the cake to create a log.
Let the cake cool rolled up. This will make it easier for you to add a filling and re-roll the cake without it cracking.
Chocolate Buttercream
INGREDIENTS:
1 lb butter, softened
3 c powder sugar, sifted
1/4 c cocoa powder
1 T vanilla extract
STEPS:
In a stand mixer with a paddle attachment, beat butter on high until light and fluffy.
Add the powdered sugar and cocoa.
Mix on low until combined.
Scrape the bowl and mix on medium until it is light and fluffy again.
Add the vanilla extract
Mix on low for 1-2 minutes to remove any air pockets that were created. This will make for a smoother buttercream.
Yule Log Assembly:
Unroll the cooled cake and spread a thin-medium amount of chocolate buttercream on top. If it's too much it will squeeze out of the sides of the roll.
Begin rolling the cake, keeping it tucked in tightly. The tighter the roll, the prettier the swirl.
After it is all rolled, place it seam side down and begin decorating.

Grand Hotel Marriot
1 Grand Blvd.
Point Clear, AL 36564
Phone:(251) 928-9201
www.marriott.com
All content © 2017, WALA; Mobile, AL. (A Meredith Corporation Station). All Rights Reserved.