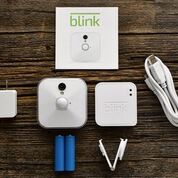 Robo-Cat?
It might almost be enough to make a cat lover out of the staunchest dog lover: a cat that can keep a person company, can give reminders about things like
taking meds - and doesn't need a litter box. Toymaker Hasbro and scientists at Brown University have received a three-year, $1 million grant from the National Science Foundation to find ways to add artificial intelligence to "Joy for All" the robotic cat. The cat is aimed at seniors as a companion device - but the money will be used to see if other features can be added to it help older people with tasks like taking their meds.
Blink Video Doorbell
Blink is coming out with a new video doorbell to go along with its line of smart security systems and cameras. Best of all is the price: $99 for existing Blink customers who already own a Blink sync module, or $129 for everyone else. For that price you get two-way audio, motion detection, night vision, unspecified "HD video," smartphone video alerts, and a promise of "free cloud storage. Not bad considering the competition touting prices of $179 for an entry-level Wi-Fi video doorbell from Ring, $229 for a Nest Hello, on up to $499 for devices like the Ring Elite.
Self-healing glass
Smatphones screens can be fragile -- fortunately parts can be repaired. The only problem is the cost. For example, if you don't have the extended warranty, a screen replacement for the iPhone X will cost you $279-bucks! What if the glass healed itself? Glass from the University of Tokyo can repair those cracks, at room temperature, and with just a small amount of pressure applied. The self-healing glass came by accident. It seems a graduate student, Yu Yanagisawa, stumbled upon the unique properties when he was attempting to use the polymer as a type of glue.