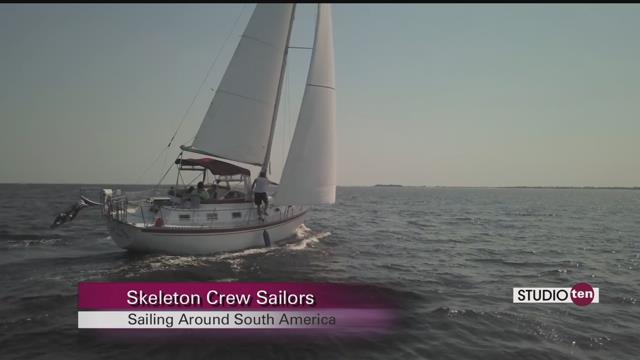 Imagine sailing around South America and traversing Cape Horn with only a two-man crew? That's the mission the Skeleton Crew is tackling!
Joe Emer got to chat with the Skeleton Crew in Panama via Skype on Studio 10. The Skeleton Crew is Captain Taylor Grieger and First Mate Stephen O'Shea. They are on a waterbound mission of minimalism, brotherhood and charity.
The crew set sail from Pensacola, Florida. The goal is to sail along the spine of South America, traverse Cape Horn and climb their way back up the eastern coast to the Caribbean. The trip is expected to take nine to twelve months.
Beyond the appeal of adventure and exploration, Taylor and Stephen are embarking on their journey in association with Mission 22 to spread awareness about veteran suicides. Mission 22 is a charity organization on a mission to win the war at home by raising awareness of suicide rates and sponsoring treatment programs for veterans suffering from PTSD and traumatic brain injuries. You can read more about Mission 22 and their mission here.
Learn more about Taylor and Stephen's journey at www.skeletoncrewsailing.com and keep up with their adventures here on Facebook.
You can also follow their Patreon account and watch videos from the trip on YouTube.
All content © 2017, WALA; Mobile, AL. (A Meredith Corporation Station). All Rights Reserved.