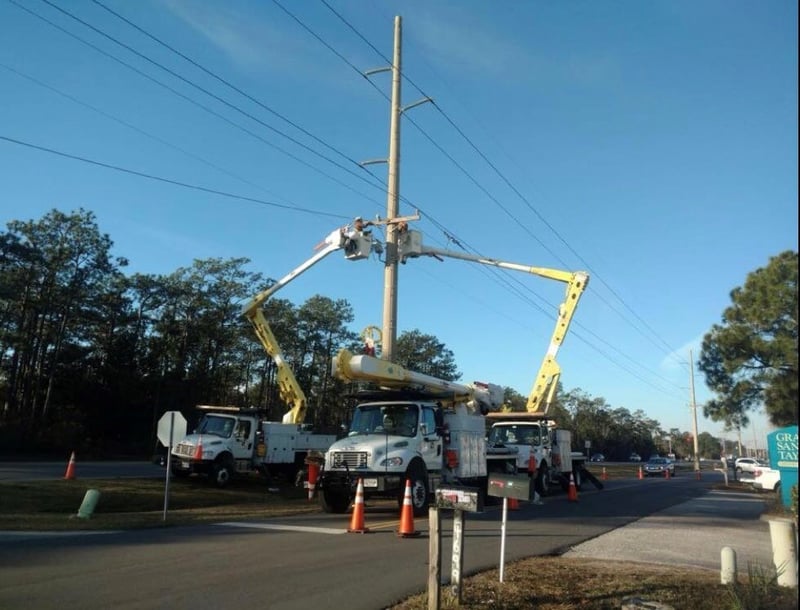 Crews work to restore power in Orange Beach. (Photo: City of Orange Beach)
ORANGE BEACH, AL (WALA) -
A line break at an Orange Beach substation caused a power outage Tuesday morning, leaving some 1,300 customers without service through the morning.
Baldwin EMC said that at about 6 a.m. a circuit at the Orange Beach substation on Canal Road experienced an outage. The cause of the outage was due to a span of line breaking causing a broken cross arm.
The utility said the outage was due to the frigid temperatures and the extreme load on the circuit.
Crews immediately began the necessary repairs; however the frigid temperatures delayed restoration efforts.
"Following the repairs we began to bring power back on in Orange Beach a section at a time to try and keep from overloading the line," Baldwin EMC said in a statement shortly after noon. "There are a lot of heaters coming on at once, so if you can turn your heat to off until the power has been back on for 10 or 15 minutes it may help."
Baldwin EMC said other power line equipment issues due to the cold weather and high load have caused several smaller outages in the Orange Beach area. Crews working to repair each one of those outages.
All content © 2018, WALA; Mobile, AL. (A Meredith Corporation Station). All Rights Reserved.