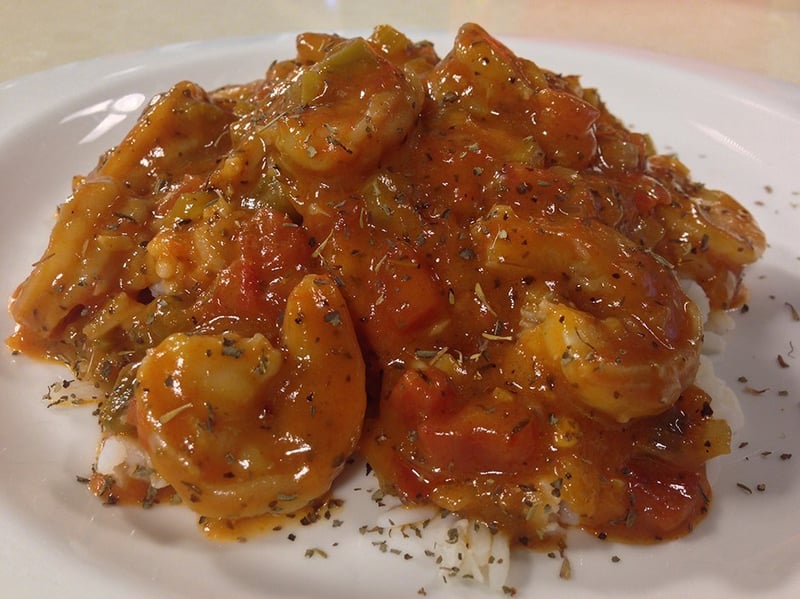 Here's something to warm you up on these cold days and nights! Lucy Greer shares a delicious recipe for Shrimp Creole.
INGREDIENTS:

1 lb shrimp, peeled
2 each small onions, diced small
2 each celery ribs, diced small
1 whole green bell pepper, diced small
5 each Garlic cloves, finely chopped
1 stick unsalted butter
4 tablespoons flour
2 cups chicken broth
2 teaspoons kosher salt
2 teaspoon celery seed
2 teaspoons dried thyme
2 teaspoons dried basil
2 teaspoons sugar
1 teaspoon black pepper
15 oz tomato sauce
28 oz diced tomatoes and green chilies, drained

STEPS:
Melt butter in a large pot over medium high heat. Add onions, bell pepper, celery, garlic, salt, celery seed, thyme, basil, and pepper. Cook stirring often for 8-10 minutes, until vegetables have softened.
Sprinkle the flour over vegetables, and stir well making sure flour is incorporated. Allow to cook while stirring constantly for 3 minutes.
Add chicken broth while continuing to stir.
Add tomatoes, tomato sauce, and sugar. Turn heat to high, and bring to a boil. Continue to stir.
Once boiling, reduce heat to medium low, and simmer for 30 minutes to an hour.
Add shrimp and allow them to cook while simmering, 8 minutes. Shrimp will be pink when cooked through.
Serve over rice.
BUSINESS INFO:
Greer's Markets and Catering (multiple locations)
www.greers.com
Catering inquiries: 251.380.7781
Email: catering@greers.com
Greer's now offers online ordering with store pickup at several of its markets!
Greer's also offers grocery delivery online through Instacart!