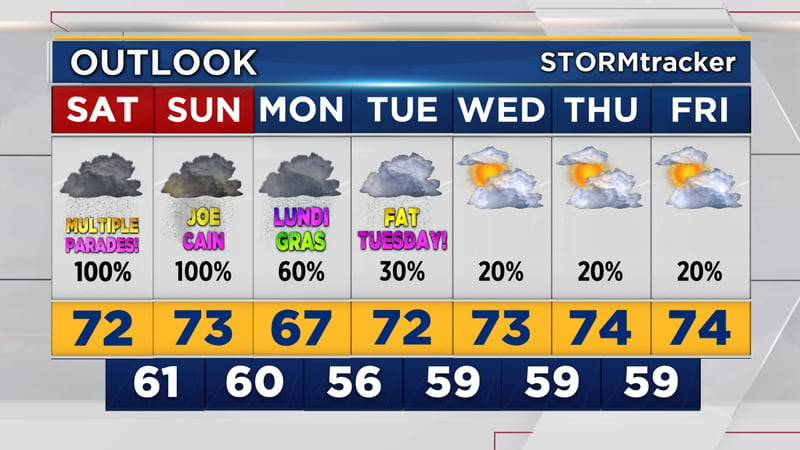 7 Day Outlook
Wet Through Fat Tuesday
Unfortunately, rain is likely to be a big issue as we try to roll into the prime of the Mardi Gras season. Rain will be likely Saturday, Joe Cain Sunday, and Lundi Gras....
Wet Weekend
Rain and a few thunderstorms are likely both Saturday and Joe Cain Sunday. The Storm Prediction Center has our area in a marginal risk zone (5%) for severe weather through the weekend. Obviously that's not a high risk, but it's not zero either, so please be aware that an isolated stronger thunderstorm could be mixed in with the rain. The rain itself will be heavy at times, with a total of 2"-3" with higher amounts in some spots. Multiple parades will be impacted so be aware that you may well need to change plans. So bring rain gear, stay flexible, and download the FOX10 FloatTracker app to keep up with the weather and the floats.
Lundi and Mardi Gras
Rain chances are a little lower for Lundi Gras day, but there's still a decent chance of seeing rain through the day, so once again be prepared for rainy weather if you plan on going out to the parades.
Most of the models are beginning to agree that most of the weather moves out before dawn on Fat Tuesday with only isolated chances of showers after that for the big day. Let's hope that doesn't change and at least Fat Tuesday can go off as planned!
Have a great weekend!