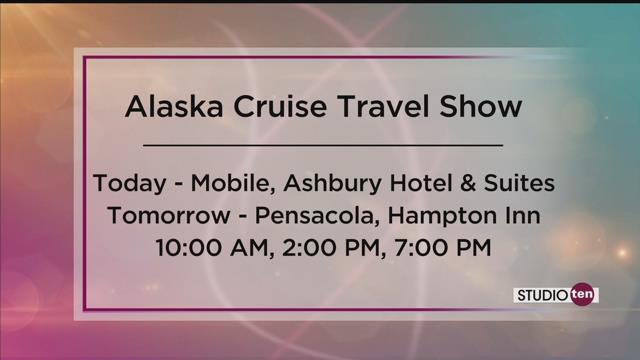 MOBILE, AL (WALA) -
Everyone needs and deserves a vacation and not just any vacation, a Holiday Vacation! Dana Lanier joined Studio10 to tell us what sets apart Holiday Vacations and about an upcoming Alaskan Cruise that should be on everyone's bucket list! Here's more:

Below is the travel show times and locations.
Tuesday

March 6

Wednesday

March 7

WALA-AK & Inside Passage

10:00 AM, 2:00 PM, 7:00 PM

Ashbury Hotel & Suites

600 West I-65 Service Rd S

Mobile, AL

WALA-AK & Inside Passage

10:00 AM, 2:00 PM, 7:00 PM

Hampton Inn

7050 Plantation Rd

Pensacola, FL
Tell us about Holiday Vacations?
Over 45 years in the tour business

One of the most trusted and reputable travel companies in the country
What makes a Holiday Vacations tour unique?
All airfare Included

Low, risk-free fully refundable deposit of only $200 holds your space

All accommodations included at exceptional hotels

Premiere Attractions included at no additional charge

Many delicious meals, including some fabulous desserts

$100 Travel Voucher for a future Holiday tour
Will someone from Holiday Vacations travel with the group?
Yes, I will be your Tour Director and I will be with you from when you are picked up, on our flight, and the entire tour all the way through when we arrive back home on the last day

Holiday Tour Directors average 10 years of experience

Ill offer helpful and interesting information during tour and help with all details to make this a wonderful trip
What makes this tour special?
Three night Holland America Cruise aboard the MS Volendam. Smaller cruise ship perfect for getting close to the wildlife and scenery, easy to navigate, delicious food and wonderful entertainment

A visit to the Santa Claus House in North Pole, AK. You can send mail postmarked from the North Pole

Gold Dredge Eight where you will get to pan for gold and you get to keep what you find!

Riverboat Discovery where we ride an authentic sternwheeler, see a float plane demonstration and visit a recreated Athabascan Indian village.

Take an eight hour Tundra Wilderness tour into Denali National Park where we will try to see the "Big Five" wildlife and join the 30% club in seeing the full peaks of Mt. Denali

Visit to the Iditarod Trail Headquarters where we will learn about Alaska's state sport and may get to hold a puppy or be pulled by a team of dogs

A 26 glacier cruise of Prince William Sound where we will watch calving glaciers and spectacular wildlife.

Overnights in Anchorage and Fairbanks to discover the cities of this amazing state.
How can I find out more information or sign up for the tour?
Attend a travel show on March 6th or 7th and receive a $100 coupon that can be put toward the cost of this or any other Holiday tour

Visit our website for more information and to request a free brochure about this tour

Call our office at 1-800-826-2266 and speak with a friendly tour consultant

?All content © 2018, WALA; Mobile, AL. (A Meredith Corporation Station). All Rights Reserved.