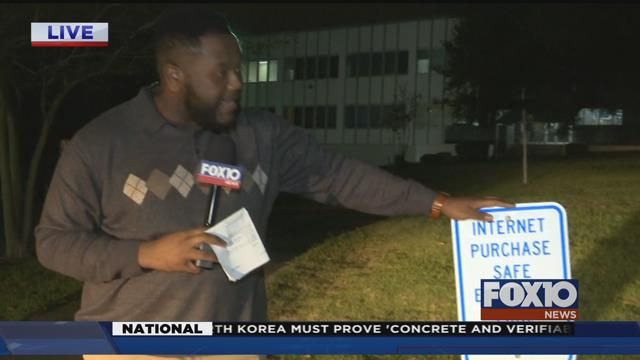 MOBILE, AL (WALA) -
With the popularity of mobile classified apps, the Mobile Police Department urges the public to use its designated Internet Purchase Safe Exchange Zones when buying from and selling to others locally.
"It's somewhere that you can feel comfortable about making an exchange with someone without the possibility of being robbed or taken advantage of," said MPD Public Information Officer Corporal Laderrick Dubose.

According to police, at about 10:18 p.m. two young male victims made an arrangement to meet at the Citgo Gas Station at 2721 Spring Hill Ave. to trade an iPhone 7 Plus with a person they had been chatting with on Letgo. When the victims gave him the phone to look at, an unknown male came out the bushes and pointed two guns equipped with lasers at the victims, police said.
The victims immediately took off running, and the iPhone 7 Plus was stolen, police said.
"Had they been at 1st precinct. Its lit. For one it's a precinct with police car. There's somebody somewhere around. There is a camera that monitors the parking lot so had it happened right there at the safe zone, there would possibly be video footage of an attempted robbery," said Cpl. Dubose.

Setting up Internet Purchase Safe Exchange Zones is a way the Mobile Police Department helps keep citizens safe when they need a meeting place to complete the deal on items offered up for sale online.

The Internet Purchase Safe Exchange Zones are clearly marked in the parking lot at police stations and at police headquarters.
Headquarters – 2460 Government Blvd
Precinct 1 – 850 Virginia Street
Precinct 2 – 5441 Hwy 90 (Will be posted soon!)
Precinct 3 – 2165 St. Stephens Road
Precinct 4 – 8080 Airport Blvd
Western Administrative Complex – 4851 Museum Drive
All content © 2018, WALA; Mobile, AL. (A Meredith Corporation Station). All Rights Reserved.