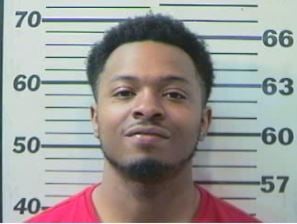 Treshun Dandre Hughes (Photo: Mobile County Metro Jail)
MOBILE, AL (WALA) -
Treshun Dandre Hughes, 22, of Mobile, was booked into Mobile County Metro Jail just after midnight on two counts of murder and discharging a gun into an occupied vehicle or building.
We've reached out to Mobile Police to get more details.
We haven't heard back from them yet, but we found that the case number matches a double murder from September of last year.
Reginald Crenshaw Jr. and Brandon Cadwell were killed on Gulfwood Drive on Sept. 12.
Another man, Larry Jackson, is already charged in the case.
He was arrested shortly after the murder.
According to court documents, his case was bound over to a grand jury.
All content © 2018, WALA; Mobile, AL. (A Meredith Corporation Station). All Rights Reserved.