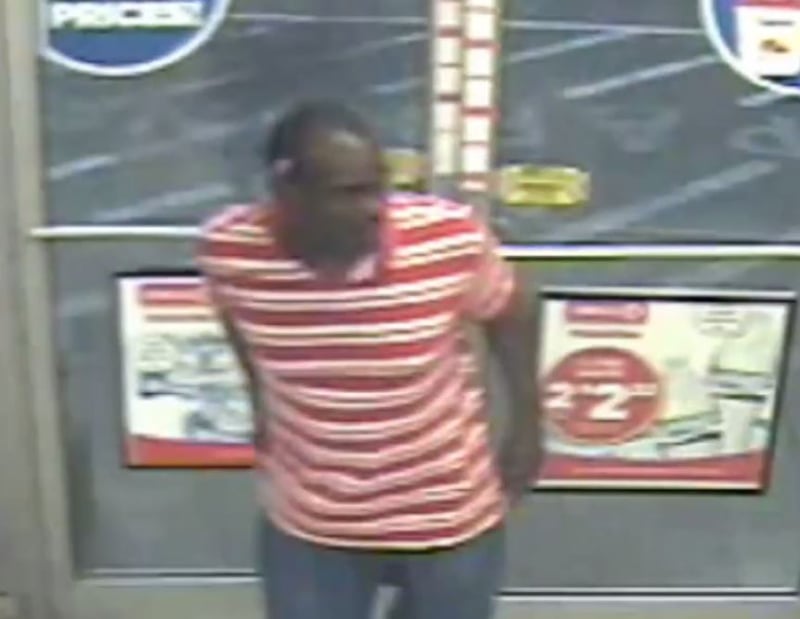 Circle K robbery suspect pictured in still image from security camera video footage (MPD)
MOBILE, AL (WALA) -
The Mobile Police Department is asking for the public's help in identifying the robbery suspect shown in surveillance video footage recorded during two early morning robberies at Mobile convenience stores.
Police say that at about 1:59 a.m. Friday a black male suspect entered Circle K store at 6620 Theodore Dawes Road and demanded money from the clerk. The suspect placed his hand behind his back and told the clerk he had a pistol, police said. He then walked around the counter and took the cash register before leaving the location in a black, four-door Cadillac car.
The suspect was wearing a red and white polo-type shirt, black pants and black shoes.
Then at 2:15 a.m., police say, the same suspect entered the Circle K store at 8130 Cottage Hill Road. The suspect pulled up in a black Cadillac at the gas pumps and exited on the passenger side, police say.
They say he entered the store as the victim was waiting on another customer. The suspect demanded money from the clerk and then removed the register from the counter and fled the store, police say. He was seen getting back into the Cadillac and leaving the scene.
Anyone with information is asked to call police at 251-208-7000.
All content © 2018, WALA; Mobile, AL. (A Meredith Corporation Station). All Rights Reserved.