Mobile doctor allegedly drinking before deadly crash that killed medical school student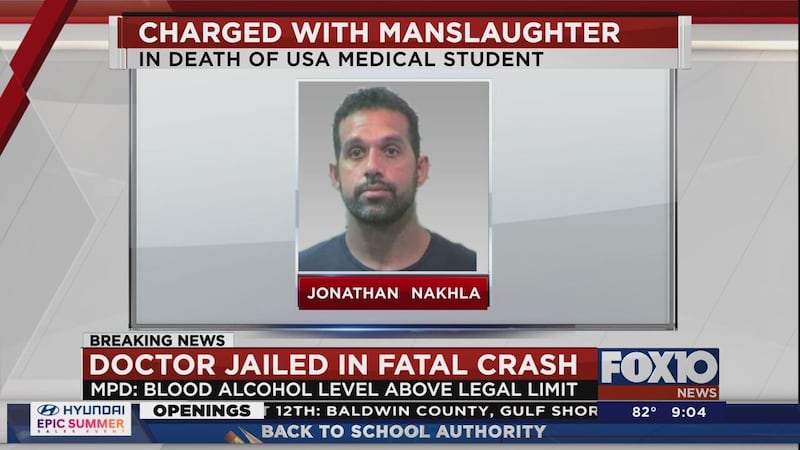 Updated: Aug. 10, 2020 at 11:13 AM CDT
MOBILE, Ala. (WALA) -- Mobile Police charged a local doctor with manslaughter for his role in a crash that killed a medical school student. MPD says Dr. Jonathan Nakhla's blood alcohol level was found to be above the legal limit.
Investigators tell FOX10 News Reporter Tyler Fingert the DA's office approved the manslaughter charge for a DUI resulting in death.
District Attorney Ashley Rich says Nakhla's bond hearing will be held on Wednesday.
Investigators said Nakhla, 36, was driving on the I-65 Service Road on August 1 when his vehicle left the road and rolled over. The passenger in the car, 24-year-old Samantha Alison Thomas, was killed in the crash.
Nakhla suffered non-life-threatening injuries and was charged with manslaughter on August 10. Police did not release any other details about the deadly crash.
Thomas was a student at the University of South Alabama's College of Medicine.
Nakhla is a neurosurgeon at Infirmary Health. The hospital had no comment after his arrest.
Copyright 2022 WALA. All rights reserved.