Delray Beach man wins $1 million scratch off prize and almost bought the wrong ticket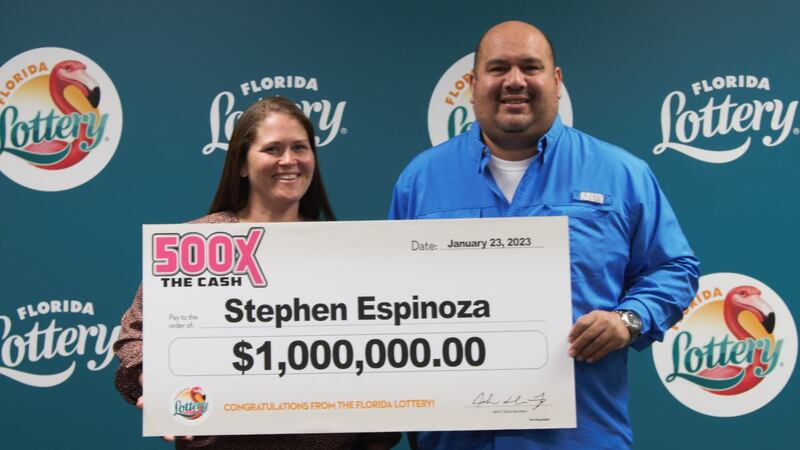 Published: Jan. 25, 2023 at 8:35 PM CST
TALLAHASSEE, Fla. (WALA) - A man in Tallahassee won a $1 million prize off of a scratch off ticket after a man cut in front of him in line.
The Florida Lottery announced that Stephen Munoz Espinoza, 43, of Delray Beach, claimed a $1 million prize from the 500X THE CASH Scratch-Off game at Lottery Headquarters in Tallahassee, but Espinoza said he almost didn't get that ticket.
"It was the end of a long day, and I was tired. I stopped at Publix and was about to buy a ticket at the machine when a man cut right in front of me. Instead of saying something, I decided I'd just buy a ticket at the counter instead. I can't believe I won a million dollars!"
According to the Florida Lottery website, the odds of winning the $1 million prize are 1-in-267,739.
Munoz Espinoza purchased his winning ticket from the Publix located at 555 Northeast 5th Avenue in Delray Beach.
Espinoza chose to receive his winnings as a one-time, lump-sum payment of $820,000.00. and he and his wife are planning to buy a home for their family.
---
Download the FOX10 Weather App. Get life-saving severe weather warnings and alerts for your location no matter where you are. Available free in the Apple App Store and the Google Play Store.
Copyright 2023 WALA. All rights reserved.