Coach Nate Oats extends Alabama contract through 2029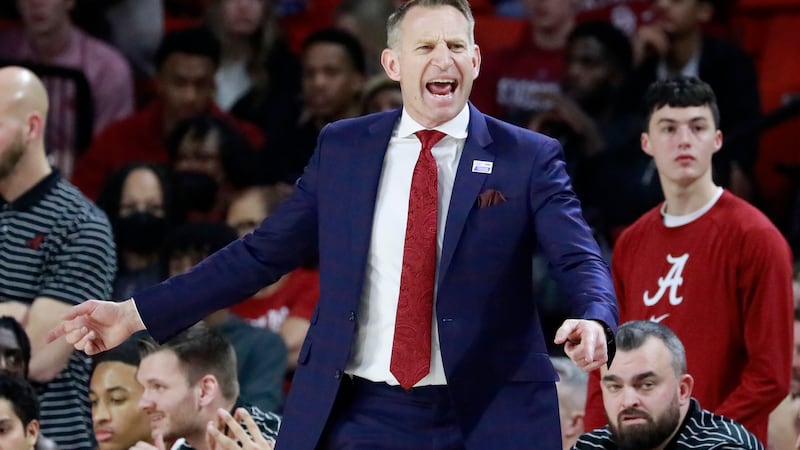 Published: Feb. 3, 2023 at 11:40 AM CST
TUSCALOOSA, Ala. (WSFA) - The University of Alabama Director of Athletics, Greg Byrne, announced that head men's basketball coach Nate Oats and the University have agreed to a raise and contract extension, which was approved Friday by The University of Alabama System Board of Trustees Compensation Committee.
The new agreement extends the current contract through Mar. 14, 2029. Oats currently has a base salary of $4.5 million. The extension will raise that number starting in 2024 and continue to increase throughout the length of the contract.
"I am honored and humbled to receive a contract extension from The University of Alabama," Oats said." As I have said many times, my family and I love this community, the city of Tuscaloosa, and the University. I am incredibly proud of what we have been able to build during our time at UA, which is a direct reflection of the student-athletes, coaches, and staff who have all played a big part in our success. I am excited for what's happening in our program's future and our direction. I cannot thank President Stuart Bell, Chancellor St. John, The Board of Trustees, and Greg Byrne enough for trusting me to lead this program for the long term."
Oats is currently in his fourth season as the head coach of the Crimson Tide. He has led the program to an 80-39 record with a winning percentage of .672 over that span.
So far this season, Oats has led Alabama to a 19-3 overall record with an impressive 9-0 SEC record. The Tide are currently ranked No. 4 in the AP Top 25, which is the highest ranking this far into the season since the 1976-77 season.
"Coach Oats has done an outstanding job leading our men's basketball program, and we want him to continue doing so for many years to come," said Byrne. "He and his staff have lifted the program back to national prominence and built a product that is exciting to be a part of for our team and for our fans. We were confident Nate was going to be an outstanding coach for us when we hired him, and he is not only that but also a great leader of our young men. It was important for us to make sure Coach Oats was compensated towards the top of the SEC and continue to have buyout measures in place that affirm the long-term commitment between both parties. We appreciate the support of President Bell, Chancellor St. John, and our Board of Trustees for their approval in this process."
Alabama is currently on pace to make the NCAA tournament for the third straight season, something that the Tide have not accomplished since 2004-06.
Not reading this story on the WSFA News App? Get news alerts FASTER and FREE in the Apple App Store and the Google Play Store!
Copyright 2023 WSFA. All rights reserved.