Family of Minneapolis man killed in no-knock raid sues city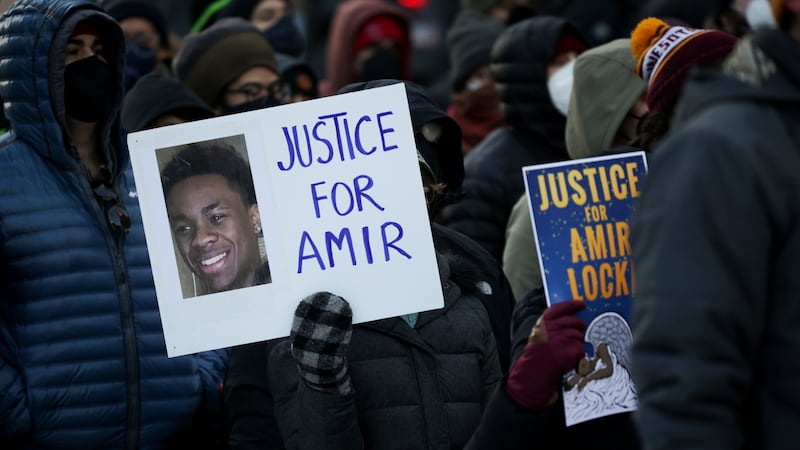 Published: Feb. 3, 2023 at 1:26 PM CST
MINNEAPOLIS (AP) — The parents of Amir Locke, who was shot to death by a Minneapolis police officer when a SWAT team executed a no-knock search warrant one year ago, sued the city and the officer Friday, alleging he was "gunned down in cold blood" in violation of his constitutional rights.
Locke, 22, who was Black and had hoped to build a career as a hip-hop artist, was sleeping on a couch in his cousin's downtown apartment when authorities entered without knocking Feb. 2, 2022, as part of an investigation into a homicide in neighboring St. Paul, in which Locke was not a suspect. Body camera video showed that Locke was holding a gun before he was shot seconds after the officers burst in.
"This has got to stop," Locke's mother, Karen Wells, said at a news conference. "Amir will be the face of banning no-knock warrants. He will not die in vain."
Prosecutors declined last April to charge any of the officers involved, saying the video showed that Locke pointed a gun at Officer Mark Hanneman, justifying his use of deadly force.
But the lawsuit, filed in federal court by attorneys Ben Crump and Jeff Storms, alleges that Hanneman acted too hastily when he fired three times. And it disputes the official assertions that Locke pointed his gun at officers. It seeks unspecified damages and the appointment of an official to ensure that the city properly trains and supervises its officers.
"Amir, like many Americans, had a handgun within his reach while he slept. Even half-asleep, while Amir reached for the handgun, he demonstrated proper and responsible handling by keeping the handgun pointed away from the officers and keeping his finger off the trigger. Amir never raised the weapon in the direction of any officer or placed his finger on the trigger," the complaint said.
"Any reasonable officer would have understood that Amir needed an opportunity to realize who and what was surrounding him, and then provide Amir with an opportunity to disarm himself. Hanneman failed to give Amir any such opportunity even though Amir never pointed the handgun at Hanneman or put his finger on the trigger," the complaint continued.
Crump, who has been dubbed "Black America's attorney general," has won multimillion-dollar settlements in numerous police brutality cases, including $27 million for the family of George Floyd, whose killing by a Minneapolis officer sparked a nationwide reckoning on race.
"The City will review the Complaint when it receives it," city spokesman Casper Hill said in an email.
Wells compared the video showing her son's death to the video that she forced herself to watch of the beating death of Tyre Nichols by police in Memphis, Tennessee, "another person dying by the hands of those that said they're here to protect and serve. ... This can't happen again."
Minnesota Attorney General Keith Ellison and then-Hennepin County Attorney Michael Freeman said when they declined charges that Locke might not have been shot if not for the no-knock warrant. But they said there was insufficient evidence to prove beyond a reasonable doubt that Hanneman violated state law on when police can use deadly force.
Locke was killed during the trial of three former Minneapolis police officers in federal court in St. Paul on civil rights charges in the murder of Floyd. Locke's death rekindled distrust of police and sparked fresh protests over policing and racism.
And it led Mayor Jacob Frey to sharply restrict no-knock warrants, requiring officers to knock and wait before entering, with limited exceptions. While some lawmakers called for a statewide ban on no-knock warrants, the proposal died in the Legislature last year. Some lawmakers have expressed interest in bringing it back.
The complaint alleges that the use of the no-knock warrant that led to Locke's death was "consistent with Minneapolis's custom, pattern and practice of racial discrimination in policing." And it alleges that police officials should have known from previous legal actions and citizen complaints involving Hanneman that he didn't understand department policies or constitutional rights.
Locke was killed seconds after the SWAT team entered at 6:48 a.m. The body camera video showed one officer unlocking the door and going in, followed by at least four uniformed officers in protective gear. They repeatedly shouted, "Police, search warrant!" They also shouted "Hands!" and "Get on the ground!"
The edited video, released the day after, showed an officer kicking a sectional sofa, and Locke was shown wrapped in a comforter, holding a pistol. Three shots were heard and the video ended.
"I was convinced that the individual was going to fire their handgun and that I would suffer great bodily harm or death," Hanneman wrote in his statement to investigators. "I felt in this moment that if I did not use deadly force myself, I would likely be killed."
Crump has previously compared Locke's death with that of Breonna Taylor, who was killed in a botched police raid in Kentucky in 2020 in which her boyfriend shot at officers first as they broke into her apartment.
"We should have learned from Breonna Taylor," Storms said at the news conference. "We had a chance to not make the mistake ourselves. We had the notice as a city. ... So we don't learn from our mistakes and we don't learn from the well-publicized mistakes of others."
Locke's cousin, Mekhi Camden Speed, who was 17 at the time of the raid, pleaded guilty last May to aiding and abetting second-degree unintentional murder while committing the felony of aggravated robbery for the Jan. 10, 2022, killing of Otis Elder, 38.
___
Find the AP's full coverage of the death of Amir Locke: https://apnews.com/hub/amir-locke
Copyright 2023 The Associated Press. All rights reserved.