Gulf Shores business offering reward for arrest / recovery of stolen watercraft
Published: Mar. 6, 2023 at 4:50 PM CST
GULF SHORES, Ala. (WALA) - Two businesses in Gulf Shores were hit by whom they believe to be the same thieves just an hour apart. It happened Sunday, February 26, 2023 on Commerce Drive, near the airport. A tandem axle, flatbed trailer was taken from one location and two Sea-Doo watercrafts from another.
Surveillance video from the business complex off Commerce Drive shows what appears to be a white Toyota pickup pull into the parking lot in front of The Housekeeping Squad business. It then makes a U-turn and stops in front of a trailer carrying the owner's two Sea-Doo watercraft. It took less than two minutes to cut the lock, hook up to the trailer and drive away.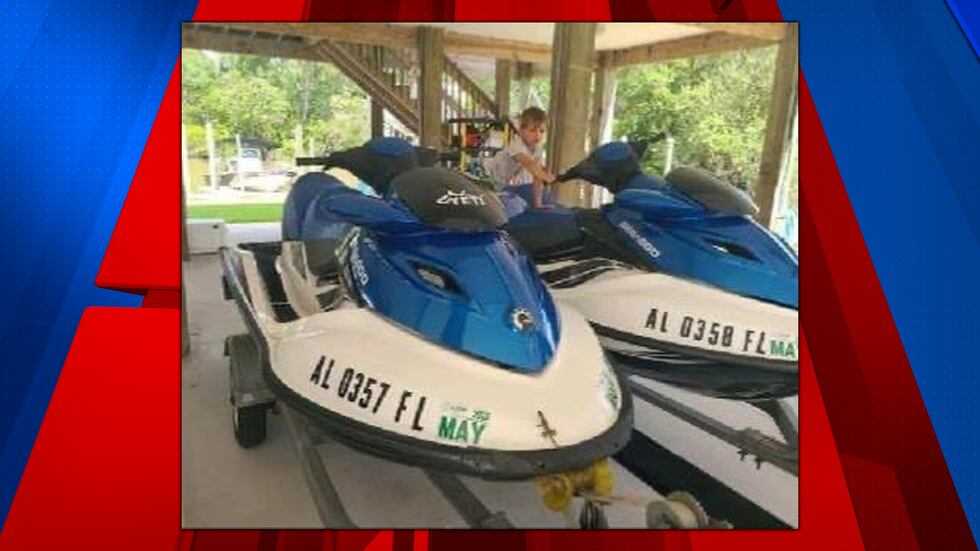 "It definitely didn't see like a first time somebody you know, opportunistic kind of deal. It seemed like somebody kind of knew kind of what they were looking for and what they needed to bring to take them," said Alyssa Crumpton.
Crumpton's family owns The Housekeeping Squad. The watercraft belong to them but were kept in the business parking lot. The Sea-Doo trailer had a lock on it but what appear to be sparks frying from a grinder can be seen in one of the surveillance images.
When the Crumpton family posted pictures of their missing property on social media, a neighboring business got in touch, saying they'd also had a trailer stolen. Surveillance pictures from that location show what appears to be the same suspect vehicle just an hour earlier, about 6:00 p.m. The victims are hoping someone recognizes the pickup or has seen the stolen property.
"We shared photos of the vehicle on Facebook, but we don't know the tag. We don't know the driver, so just definitely, if you know anything, see anything, the police department is working on it so if you have anything and you don't want to call us, call them and no harm, no foul if you know something and we don't," explained Crumpton.
The stolen property is valued at more than $15,000 and the Crumptons are offering a $1,000 reward for information leading to an arrest and recovery of their watercraft.
Gulf Shores Police said they are in the early stages of the investigation because they were only notified Saturday, March 4th of the theft. If you have any information that can help find who's responsible, call Gulf Shores Police.
Copyright 2023 WALA. All rights reserved.