Tactics used to catch Orange Beach great white shark shared by anglers
Published: Mar. 14, 2023 at 8:41 PM CDT
ORANGE BEACH, Ala. (WALA) - According to a marine biologist Fox 10 News spoke with who specializes in sharks of the northern Gulf of Mexico, the shark landed in Orange Beach March 7, 2023 by Coastal WorldWide could be the first documented great white shark to be caught from an Alabama beach.
It was 4:30 a.m. when the shark was finally brought to the beach. It was a thirty-minute fight Dylan Wier and Blaine Kenny with Coastal WorldWide Outfitters will never forget.
"Bro, that's a freaking great white! No! No way," Kenny and Wier could be heard yelling to one another in the video taken at the scene.
That night was more of a fun trip to a stretch of beach just west of the Flora-Bama Lounge. Family and friends were in town and wanted to catch a shark. Little did they know how things would turn out. Even after the 10 to 11-foot great white was beached and released, it took a while for the adrenalin to subside.
"That'll probably be one of the craziest things to ever happen in my life," Wier emphatically told the group afterwards.
Yes, it took a lot of luck to hook and land a once-in-a-lifetime catch like that, but Wier and Kenny set up for success every time they hit the beach. They met me less than a mile from where the shark was caught and gave me a little education on what goes into shore fishing for sharks.
"There's a couple common misconceptions," Wier pointed out. "One, we don't do this in the daytime whatsoever, especially during spring break time starts. In the winter we'll daytime fish. No one's in the water, but as soon as spring break starts, through the summertime, we set up at sunset. We fish until midnight - one o'clock and we're gone before it ever gets light again."
The bait used to catch the great white was paddled out by kayak 600 yards and dropped at the distance and depth known as a cruising zone for larger sharks. The gear used in the battle was a Shimano Tiagra 130 seated on a custom built, heavy-duty rod with a hook and leader to match.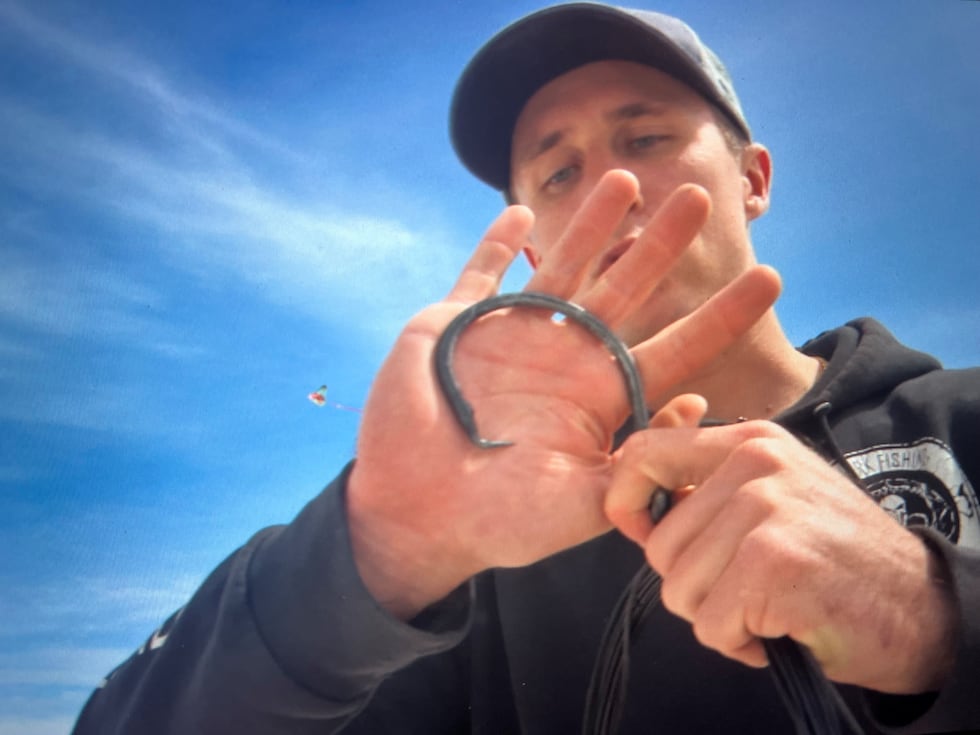 "So, it's eight-hundred-pound mono to eight-hundred-pound cable, fifty-foot overall leader to a twenty-four – aught circle hook," Wier explained.
Kenny and Wier approach releasing fish with as much care and preparation as catching them. Dr. Marcus Drymon with Mississippi State University is a leading expert on sharks along the central gulf coast and played a key role in the decision by the Alabama Deep Sea Fishing Rodeo to bring back the shark category in 2022. Drymon watched the video of the catch and release and sends props to the guys at Coastal WorldWide.
"It's incredible and I applaud the anglers you know, for giving their absolute best effort to get that fish, you know released quickly, keeping its gills in the water," Drymon said. "It's a testament to the fact that they knew exactly what they had caught, that they were doing a good job of getting it released and look, I mean, the amount of excitement they showed is absolutely appropriate. It's a once in a lifetime catch for this part of the world."
"I really hope this gets us to a point to where we can start having real conversations with people in higher positions and talk about the conservation side of it and talk about when you should fish and where you should fish," said Wier's business partner and fellow guide, Blaine Kenny. "I think that fish made me realize how important it is to keep our gulf waters clean, safe and make sure all anglers have the proper gear necessary."
Kenny and Wier have already reached out to Dr. Drymon about helping even more with a tagging program for sharks they catch. Drymon told Fox 10 News he intends to speak with them very soon about doing just that.
Copyright 2023 WALA. All rights reserved.