Man found dead lying next to his 4-year-old daughter in Navarre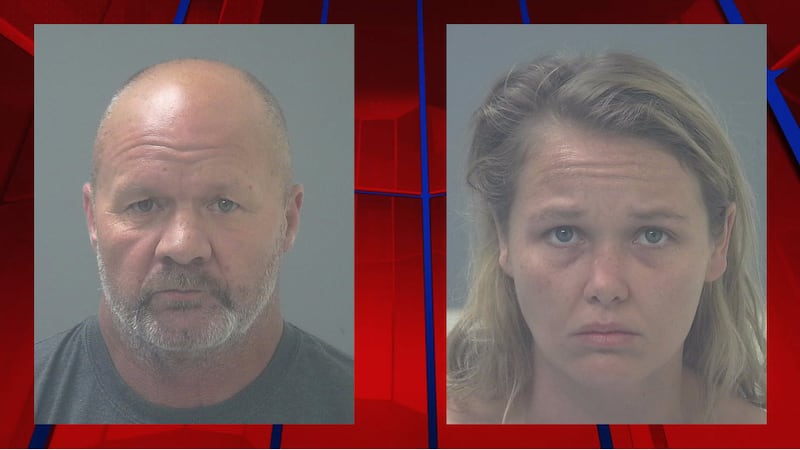 Published: Mar. 27, 2023 at 7:43 PM CDT
SANTA ROSA COUNTY, Fla. (WALA) - The Santa Rosa County Sheriff's Office has arrested two in connection to the murder of a man found dead in his apartment next to his 4-year-old child, according to the sheriff.
Deputies were dispatched to Cayo Grande Apartments in Navarre on March 19 at 9:40 p.m. in reference to a shooting, according to reports.
Upon arrival, the sheriff said they found Colby Vinson, 24, dead with a gunshot wound next to his four-year-old child in his apartment.
The four-year-old was not injured, according to authorities.
Deputies began investigating and determined Jason Curtis, 53, who is the ex-stepfather of the four-year-old's mother, as the suspect, according to SRCSO.
The sheriff's office also interviewed the mother of the 4-year-old, Rachel Moore, 25, and arrested her for tampering with evidence and accessory after the fact to first degree murder following the interview.
A warrant was issued for Curtis, who lives in Cullman, Ala., and the Cullman County Sheriff's Office arrested him and searched his vehicle, finding a firearm and a hand-written note with a physical description of Vinson, his vehicle description, home address and work address.
Santa Rosa County Sheriff Bob Johnson said both Moore and Curtis's phones are being searched and additional arrests or charges could be issued.
The sheriff said they believe the incident was due to an ongoing custody battle between Moore and Vinson who are the parents of the four-year-old.
According to the arrest report, Vinson had just been granted split custody with Moore on March 13 and the day of the incident was the first time in a year the child was able to see and stay at Vinson's residence.
Curtis is being held in the Santa Rosa County Jail on no bond and Moore is being held on a $200,000 bond.
The sheriff's press conference can be seen on their Facebook page here.
Copyright 2023 WALA. All rights reserved.