'It's unbelievable': South Alabama's Darrell Luter Jr. gets drafted by the San Francisco 49ers.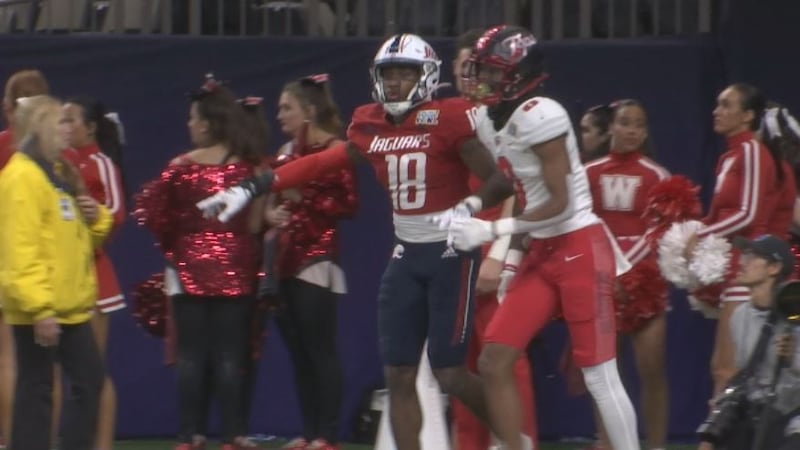 Published: May. 1, 2023 at 5:43 PM CDT
MOBILE, Ala. (WALA) -With his friends and family by his side. South Alabama's Darrell Luter Jr. realized a dream when he officially became a San Francisco 49er in the 5th round of the NFL draft.
"I just can't explain the feelings that's been going through me right now and just going through my mind it's unbelievable," said Luter. "I don't think it's really going to set in until I get there, step in that facility."
Originally from Hattiesburg, Mississippi. Luter's college career started with two seasons at pearl river community college which set the stage for his career.
"It definitely molded me. It definitely brought some things out that other coaches may not have brought out of me," said Luter.
It was his last three years at South Alabama that put him on the map. Luter finished as a First Team All-Sun Belt selection in 2021 and Third Team All-Sun Belt selection in 2022. Now he becomes the 4th player overall and the 1st defensive player in program history to be drafted.
"I didn't even notice that" added Luter. "I didn't even look at it that way either, but you know God got a way of doing things in your life and like He says He will make your name great."
Now Luter heads to the Bay Area where he feels like he'll be a natural fit.
"The stuff that they do is similar to what I'm already used to doing at South the only difference is the calls and the checks we make," said Luter.
And he's already got his eyes on some of the game's best receivers.
"When I did get drafted by them that's one of the first things that popped in my mind was, I'm going to be going against Deebo Samuel in practice," said Luter. "You got the Ja'Marr Chase, you got Justin Jefferson I'm ready to go against all those guys."
Luter says he plans to work out and start learning his new playbook before he leaves for San Francisco on May 11th.
South Alabama wide receiver Jalen Wayne also signed an unrestricted free agent contract with the Buffalo Bills.
Copyright 2023 WALA. All rights reserved.