Tropical Storm Bret moves west in Atlantic, with possible hurricane threat to Caribbean islands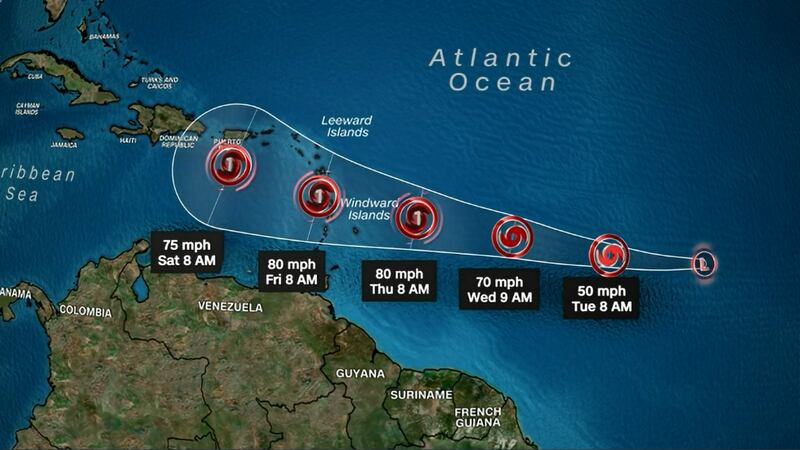 Published: Jun. 19, 2023 at 4:09 PM CDT
|
Updated: Jun. 20, 2023 at 1:00 AM CDT
SAN JUAN, Puerto Rico (AP) — Tropical Storm Bret formed in the central Atlantic Ocean on Monday, with forecasters saying it could pose a hurricane threat to the eastern Caribbean by Thursday and the Dominican Republic and Haiti by the weekend.
The National Hurricane Center in Miami said Bret had maximum sustained winds of 40 mph (65 kph) at 11 p.m. Monday as it moved west across the Atlantic at 18 mph (30 kph). Forecasters expect it to strengthen over the next two days, reaching Category 1 hurricane strength of 74 mph (120 kph) by Wednesday night as it nears the Lesser Antilles. Because of wind shear, the storm is not expected to strengthen into a Category 2 storm.
Bret is forecast to move across the Lesser Antilles as a hurricane on Thursday and Friday and unleash flooding, heavy rainfall and dangerous storm surge and waves, the center said. It is then expected to weaken slowly while still in the eastern Caribbean region, although the center warned that its forecast "remains a low confidence prediction."
"Everyone in the Lesser Antilles, Puerto Rico, and the Virgin Islands should closely monitor updates to the forecast for this system and have their hurricane plan in place," the center said.
The National Hurricane Center said there's a possibility Bret could turn north or continue west into the Caribbean and threaten the Dominican Republic, Haiti and other islands.
"There continues to be larger than usual uncertainty," the center said of the storm's forecasted path.
Almost a century has gone by since a storm last strengthened into a hurricane in the tropical Atlantic in June, according to Philip Klotzbach, a meteorologist at Colorado State University. The last such storm recorded was Trinidad in 1933, he tweeted.
Tropical Storm Arlene, the first named storm of the 2023 season, formed earlier this month. It petered out after two days, never threatening landfall. Previously, a subtropical storm formed in the Atlantic Basin in January.
The National Oceanic and Atmospheric Administration has forecast 12 to 17 named storms for this year's hurricane season. It said between five and nine of those storms could become hurricanes, including up to four major hurricanes of Category 3 or higher.
A tropical disturbance that is trailing Bret has a 50% chance of formation, according to the National Hurricane Center.
Copyright 2023 The Associated Press. All rights reserved.