Summerdale PD Junior Academy gets visit from ALEA Aviation Unit
Published: Jul. 27, 2023 at 5:48 PM CDT
SUMMERDALE, Ala. (WALA) - Several teenagers from south Baldwin County have spent the week learning about law enforcement and how various agencies work together. It's all part of the Summerdale Police Department's Junior Academy and it's designed to be both an educational and fun experience.
Alabama Law Enforcement Agency (ALEA) Senior Pilot, Brian Hand and his partner spent Thursday morning, July 27, 2023 making quite an impression on the kids enrolled in the Academy. Hand set his chopper down right in front of city hall and immediately had an audience.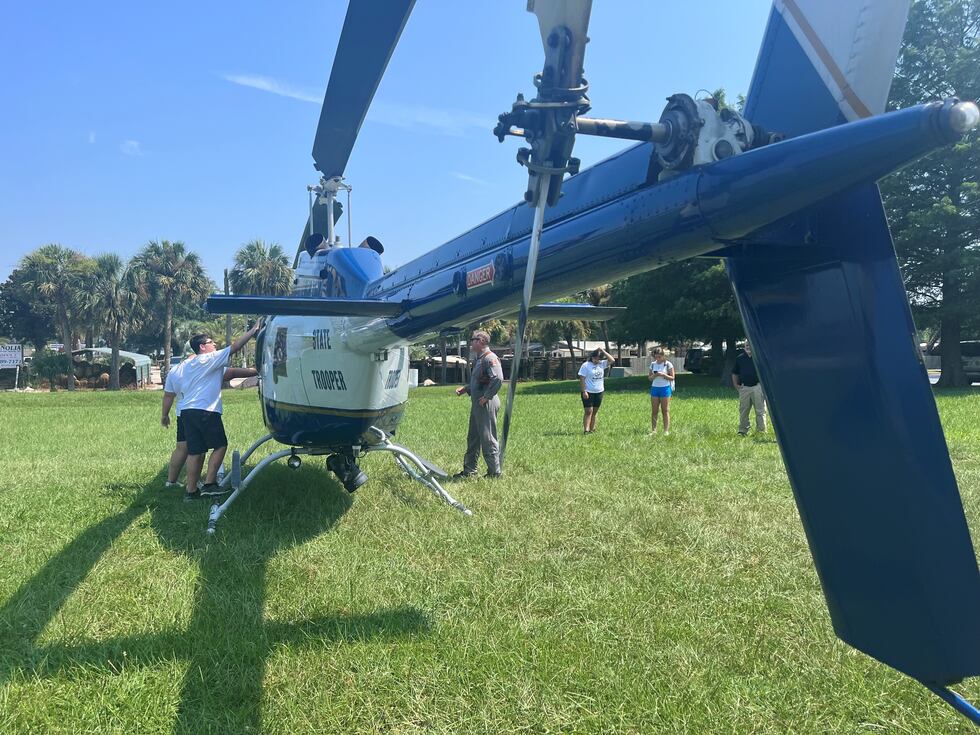 "Anytime that kids see an aircraft, they get excited, and we just enjoy coming out here and letting them see the aircraft, letting them see it up close because that's an opportunity they don't get a lot, to see an aircraft up close and we just like to talk to them a little bit about what we do," Hand explained.
Not only did the Academy participants get to see the helicopter up close, but they also got to sit in the pilot's seat and take the controls. Hand patiently explained how the aircraft works and how the onboard tools can assist in a variety of operations.
The week has been filled with activities where the kids had visits from K-9 teams, dive units, and air medics. In the classroom, they've learned about the judicial system and how police clear buildings. Every participant had their favorites.
"Guess I figured they were bringing a Blackhawk helicopter, but it wasn't," laughed Central Baldwin Middle School 8th-grader, Luke Barrows. "It was just one of the police cars…police helicopters but it was pretty cool. Get into it and basically acting like you're in, just actually flying."
"I really liked learning about how they do find the evidence from murder weapons and stuff because I want to be like a homicide investigator, you know, so it's good to know that kind of stuff and how they do it," added Ali Grigsby from Orange Beach High School.
The Junior Academy was organized by Summerdale Police detective, Jeff Michael. He said its rewarding to bridge the knowledge gap between how the students think things work and reality.
"To see a child change their attitude to where, well, 'I didn't know y'all done that,' or you know, 'Y'all do a lot more than we think you do and you can see.' It's like a light goes on and it just makes them more determined," Michael said.
It's the second year Summerdale PD has hosted the Junior Academy and the experiences may just plant the seed for future officers, divers or pilots.
The Academy wraps up Friday with a mock trial where the participants play the roles of victims and defendants while their parents sit on the jury.
Copyright 2023 WALA. All rights reserved.