UPDATE: Archbishop releases video addressing situation with former priest Alex Crow
Published: Aug. 14, 2023 at 3:03 PM CDT
|
Updated: Aug. 21, 2023 at 8:05 PM CDT
UPDATE Aug. 21, 2023: Archbishop Thomas Rodi made a video statement Monday on YouTube addressing the situation with former priest Alex Crow situation.
In the video, Rodi outlined the events which led to Crow being kicked out of the Archdiocese of Mobile.
The archbishop said when they became aware that Crow had left the country with a recent Mcgill-Toolen High School graduate, the archdiocese notified the district attorney's office and acted to strip Crow of his priestly duties.
Rodi also stated there are still many pieces to the puzzle, and the archdiocese is working closely with the district attorney's office as well as the sheriff's office.
Mobile County Sheriff Paul Burch has said the archdiocese has helped in its investigation, but they haven't gone above and beyond what's been asked of them.
The bishop said he would not answer any questions because it might hinder the investigation.
Fr. Pat Arensberg at Corpus Christi Church in Mobile didn't name Crow, but did make this statement on Facebook:
"Dear Brothers and Sisters,
As you know, these past few weeks have been difficult for our parish. There's been a lot of heartache, confusion, anger, and disappointment experienced by all of us. However, despite the darkness, there's been a tremendous amount of light.
As pastor, I want to thank everyone for their incredible support, both for me personally and for the parish as a whole. As I said a few weeks ago, we will get through this together, and, through God's grace, will emerge stronger.
With that in mind, I know that there are some out there who are still hurting and may not have the support systems they need. I want you to know that my door is always open and I want to help in any way I can. Please do not hesitate to call the office, or email me, if you need help.
Again, thank you for your prayers and support. I urge you to continue to pray for all those involved.
God Bless,
Fr. Pat"
---
ORIGINAL STORY:
MOBILE, Ala. (WALA) - MCSO released a Valentines letter that was allegedly written by former priest Alex Crow to an 18-year-old woman.
Sheriff Paul Burch says the letter was sent on Valentine's Day this year, when the girl was a senior at McGill-Toolen Catholic High School. We're told she was 17 at the time.
Dear ***********,

As I write this I'm still experiencing eye dilation, so I apologize if this is hard to read. I can barely read what I'm writing as I do this. Ha!

First things first: I love you, and I thank Jesus for you every day. You have made my life both astronomically more complicated and incredibly better at the same time. You are his gift to me.

Before we fell in love, I promised to always care for you and protect you, like a father. I still look at you and see a child, but in the best way imaginable. You are mine - no one else's, and I will always be a father to you until I die.

Now, we are in love and we are married! I've never been in love before ( and I've never been married, obviously!), and I've never felt any of the feelings I have for you for anyone ever in my entire life. I promise that I will love you the absolute best I can, every single day.

I'm sorry I cannot give you a "normal" Valentines Day this year. I wanted to do nothing more than buy you flowers but for fear of scandal I couldn't. I almost stole some from the Mary statue but there were too many people around. The chocolates were given to me by Miogron (ha). She took a few before giving them to me hence the ones that are missing. I hope you like the others though!

I know you want to make out so I'll bring this to a close. When we are together, with our family in Italy (!!!), we will have so many wonderful and normal Valentines Days, but for now: Happy Valentines Day.

You are the prettiest girl who has ever lived, and I will always tell you that. You are perfect, and precious and, besides Jesus, the most wonderful thing I've ever seen or held in my two hands. I will always love you, ***********.

Sincerely, Your Valentine and Husband!

Alex

PS: You're cute ;)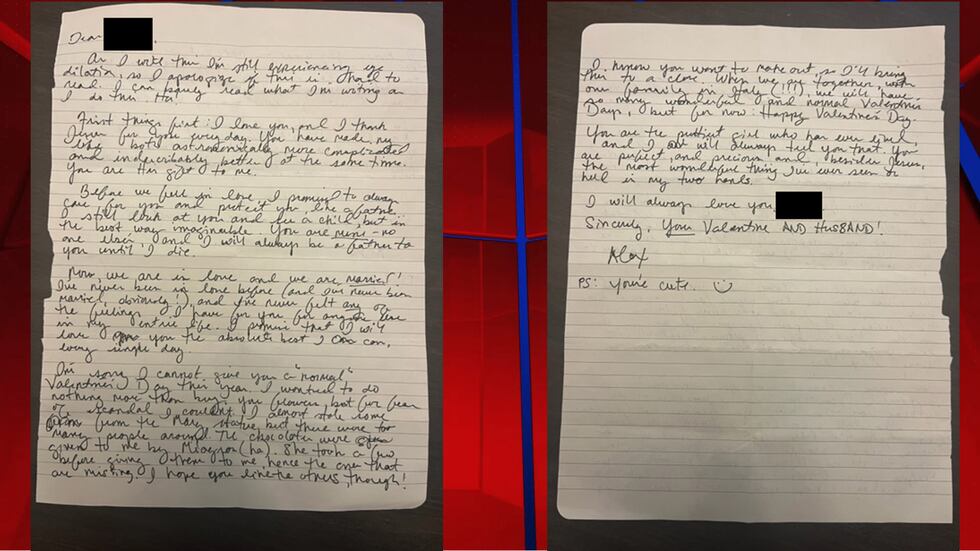 MCSO also releasing another letter allegedly from the priest before he left for Italy. It says in part that Jesus told the former priest he wanted him to leave.
The 18-year-old's family also releasing a statement to FOX10 News Reporter Shelby Myers:
"The family of the McGill-Toolen graduate in Italy with former priest Alex Crow stated that their ultimate goal is the safe return of their daughter. They will welcome her home with open arms, love, and acceptance.
Paul Burch's office asks that if you have any information about this case, no matter how insignificant you believe it may be, please reach out at 251-574-8633 or leave a tip at mobileso.com."
Copyright 2023 WALA. All rights reserved.