Tropical Storm Harold makes landfall in South Texas, bringing welcome rain and cooler temperatures
Published: Aug. 22, 2023 at 6:07 AM CDT
|
Updated: Aug. 22, 2023 at 2:37 PM CDT
McALLEN, Texas (AP) — Thousands of homes and businesses in the South Texas city of Corpus Christi are without power Tuesday after the state's first tropical storm of the hurricane season made landfall, bringing strong winds, welcome rain and cooler temperatures following months of hot, dry weather.
Tropical Storm Harold, which never reached hurricane status, made landfall about 10 a.m. near South Padre Island on the Texas Gulf coast, according to National Weather Service meteorologist Joshua Schroeder in nearby Brownsville.
"Although it formed over the warm waters of the Gulf of Mexico, it moved so quickly it just didn't have time to intensify into a hurricane," Schroeder said.
Schroeder said the rain is mostly welcome.
"There's pockets of heavy rainfall, 2 to 4 inches (5 to 10 centimeters) and isolated areas are seeing up to 6 inches (15 centimeters)," Schroeder said. "But we've been very dry down here in South Texas and this (rain) will be beneficial."
Dry conditions have prevailed in South Texas for months and in some areas for years, according to Cory Mottice, the Warning Coordination Meteorologist for the NWS in Corpus Christi.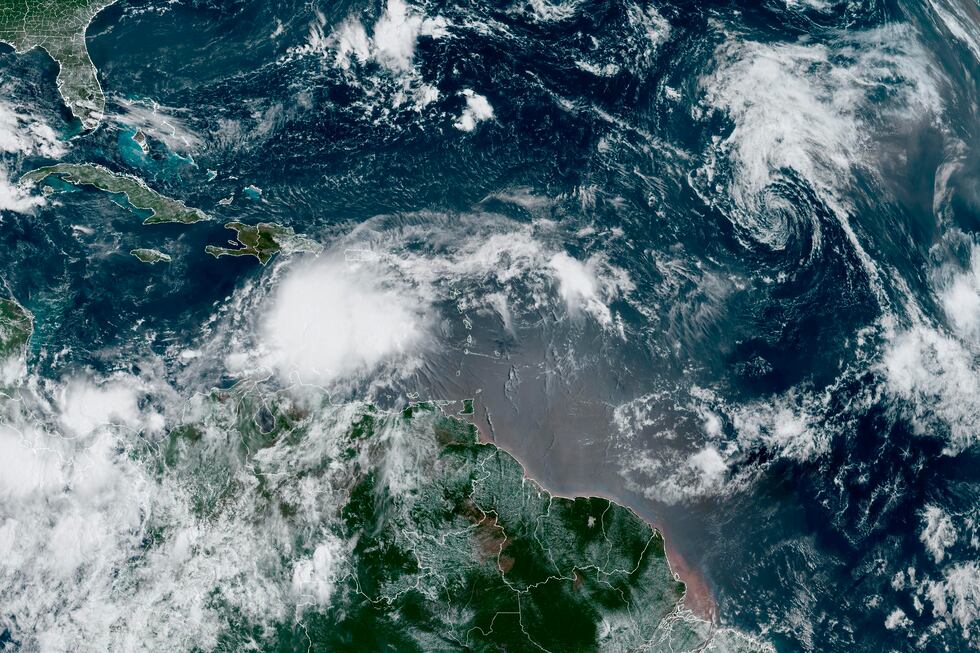 Corpus Christi has received about 3 inches (7.5 centimeters) of rain so far and it has been in a drought for about two months, Mottice said, referring to data from the U.S. Drought Monitor. Over in Webb County, which includes the city of Laredo, which has been in a drought for two years, little more than a quarter of an inch (6 millimeters) of rain fell, he said.
The National Weather Service recorded winds of up to 50 miles per hour (80 kilometers per hour) in Corpus Christi.
The storm knocked out power for about 11,000 customers in the city of around 300,000 people about 150 miles (250 km) north of the U.S.-Mexico border, and customers in Laredo, Aransas Pass, Port Lavaca, and San Benito were also experiencing outages, according to AEP Texas.
The power company has deployed some 1,500 workers across South Texas to repair service lines, spokesperson Omar Lopez told The Associated Press.
John Cangialosi, senior hurricane specialist with the National Hurricane Center in Miami described Harold as a mid-grade tropical storm.
"This is not a minor event, but not a major event for the area," Cangialosi said. "It is moving quickly, so it's not going to produce copious amounts of rainfall and flooding, and there are going to be gusty winds, but we're not going to see hurricane force winds."
Late morning, the storm was moving northwest across the mainland at about 20 mph.
In Mexico, 4 to 6 inches (10 to 15 centimeters) of rain was forecast with isolated areas expected to receive up to 10 inches (25 centimeters) in the state of northern Coahuila and northern Nuevo Leon through Wednesday.
Harold's rain and cloud cover also delivered slight respite from the sweltering heat.
In Brownsville and elsewhere in the Rio Grande Valley, temperatures have climbed above 100 degrees Fahrenheit (38 degrees Celsius) for 22 consecutive days. But that was expected to end, at least temporarily, with highs in the more typical low-to-mid 90s through the remainder of the week.
San Antonio — 250 miles (400 kilometers) to the north — also was seeing rain and temperatures in the 90s after seeing an average daily high of over 104 degrees Fahrenheit (40 degrees Celsius) thus far in August.
On the other side of the U.S., Hilary on Sunday became the first tropical storm to hit Southern California in 84 years before losing force as it pushed across the Southwest. Crews were mopping up the mud and clearing roads Tuesday.
Hilary first slammed ashore on Mexico's arid Baja California Peninsula as a hurricane, causing one death before becoming a tropical storm. No death, serious injuries or extensive damage was reported in California but the storm dumped record rainfall. Death Valley had it's rainiest day on record Sunday when 2.2 inches (5.6 centimeters) fell, according to John Adair, senior meteorologist at the National Weather Service in Las Vegas.
___
Associated Press writers Ken Miller in Oklahoma City, Adam Kealoha Causey in Dallas and Julie Watson in San Diego contributed to this report.
Copyright 2023 The Associated Press. All rights reserved.