Police K9 teams from across the country in Foley to compete in USPCA PD-1 Nationals
Published: Sep. 27, 2023 at 6:15 PM CDT
FOLEY, Ala. (WALA) - Some of the country's top police K-9 teams are in Foley this week, competing in the U.S. Police Canine Association's PD-1 Nationals. Hosted by Foley Sports Tourism along with Foley PD, it's like a canine Olympics for police patrol dogs. Wednesday, September 27, 2023, half of the field, including several of our local teams took part in the "Apprehension with Gunfire" drill.
It begins with the K9 at heel position with its handler. About 30 yards away, another handler wearing bite protection on the arm plays the role of an armed suspect. That officer fires two blank rounds and begins to run away from the K9 team. That's when the dog is set loose, only taking seconds for it to catch us with its subject.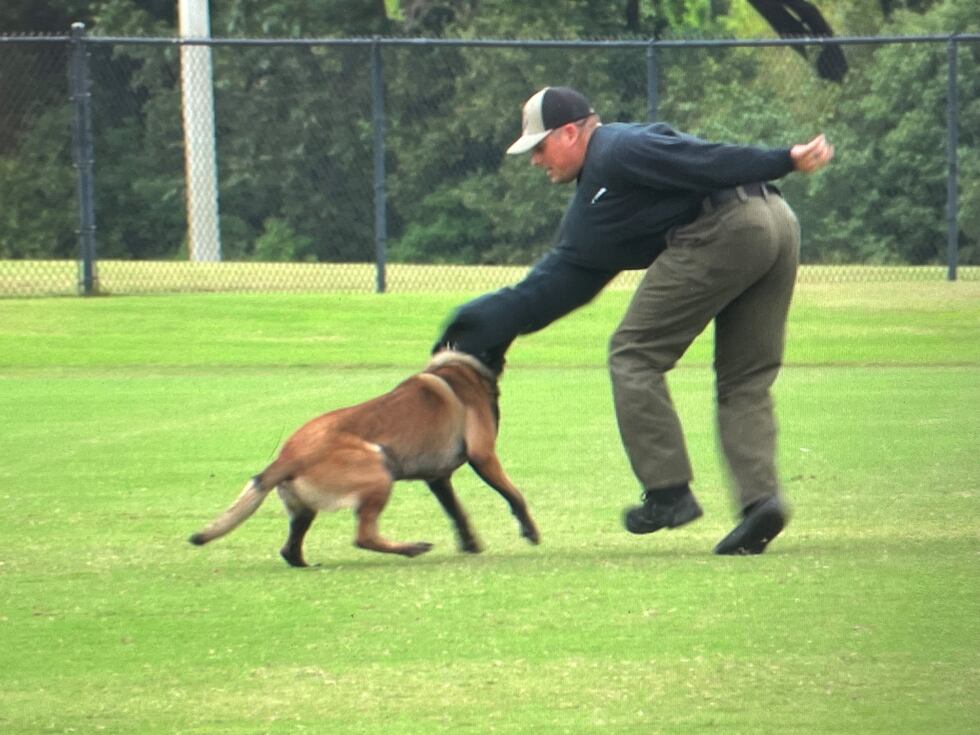 For many of the teams competing in the Nationals, this is one of the more difficult exercises to master. The police dogs will have to overcome the adrenalin rush that comes from a combination of gunfire, chase and apprehension.
The first competitors of the day were two teams from Foley PD, the host agency. Canine Officer, Cpl. Curtis Riks has worked police dogs for the last 10 years and has had his dog, Niko for the last seven of them.
"He did really well today," Riks said. "For how he typically does on bite-work…he usually gets really amped up and can have some issues. He gets that adrenalin, but he did really good. I was really happy with it."
Niko is a Belgian Malinois, one of the more athletic breeds represented and known for their speed. Other common breeds of police dogs like the German Shepard may not have the speed but still have all the tools to make the grade.
"Different dogs are going to do different things. Different training techniques are going to get different results, but we have the minimum standards here to meet and as long as you meet those minimum standards, you're good with the certification," Riks explained.
K9 teams came from across the southeast and even as far away as Massachusetts. Amanda Cummings made the trip up from Coconut Creek, Florida with her partner, Noble. She had what most would consider a stellar run at this station. She works in a field that is dominated by males…both, human and canine. Officer Cummings said she welcomes the challenge.
"SWAT and K9 are the two areas in law enforcement that are really male-dominated, but we're making gains," Cummings said. "I mean, there's five of us, I think here out of what, almost a hundred guys so we're definitely…we're still the minority but we like to come out here and try to break the mold and show that us girls can do it too."
Watching the competition is a lot of fun for spectators who've never seen this kind of work up close. Laci Kyzar came with her friends from Homma, Louisiana to support her hometown team and had never seen the dogs go through trials. Not surprisingly, she was impressed.
"You see it in videos all the time but to see it in real life, it's just amazing what these dogs are capable of doing and out there to work. That's what they look forward to," said Kyzar.
For those who want to see a live demonstration, one will be held at 5:30 p.m. on Thursday, September 28, 2023 at the Foley Sports Complex Championship Stadium. There is no admission charge.
Copyright 2023 WALA. All rights reserved.