South Alabama falls to Louisiana 33-20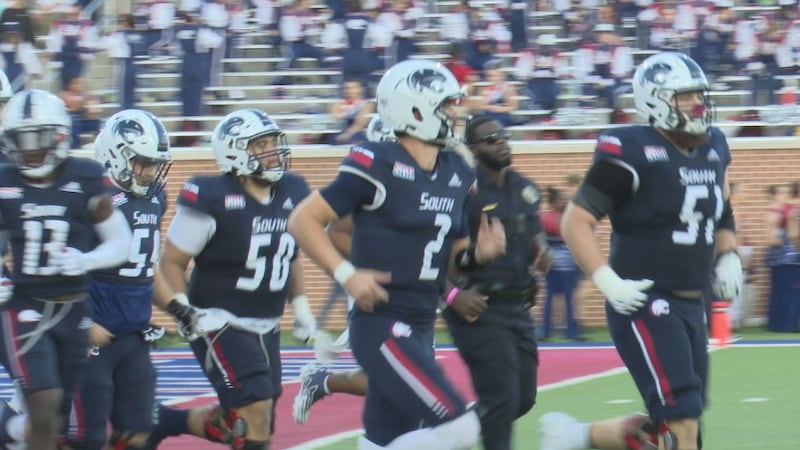 Published: Oct. 28, 2023 at 10:07 PM CDT
MOBILE, Ala. (WALA) -Following back-to-back 55-point outings the South Alabama Jaguars hosted the Louisiana Ragin' Cajuns in search of their third conference win in a row.
After a scoreless first quarter Louisiana got on the board with two touchdown passes from Zeon Chriss to Jacob Bernard and Neal Johnson respectively. On defense the Ragin' Cajuns held the Jaguars to less than 100 yards of total offense in the first half on their way to a 17-0 lead.
The Jags offense came to start the second half. Carter Bradley connected with Jamaal Pritchett for a six-yard touchdown pass. After South held Louisiana to a field goal the Jags came right back with a 25-yard touchdown run by La'Damian Webb to cut the deficit to six, but the Jags couldn't get any closer.
Louisiana forced five turnovers throughout the game and scored twice in the last 3 ½ minutes left in the third quarter to put the game out of reach and take home a 33-20 win over the Jags.
On the night sophomore wide receiver Jamaal Pritchett finished with 11 catches for 168 yards and two touchdowns, all of which marked new career highs. Caulin Lacy finished with 7 passes for 131 yards extending his streak of 100-yard games to seven in a row.
La'Damian Webb finished with 96 yards on the ground and a touchdown giving him seven straight games with a rushing touchdown. On defense. Quentin Wilfawn set a new career high with 15 tackles and tied the school record with 4.5 tackles for loss.
Quarterback Carter Bradley was helped off of the field near the end of the game after Head Coach Kane Wommack says he tweaked his knee. Wommack says they'll keep an eye on his status as they prepare to face Troy on Thursday in the annual Battle for the Belt.
Copyright 2023 WALA. All rights reserved.