South Alabama falls to Troy in annual Battle for the Belt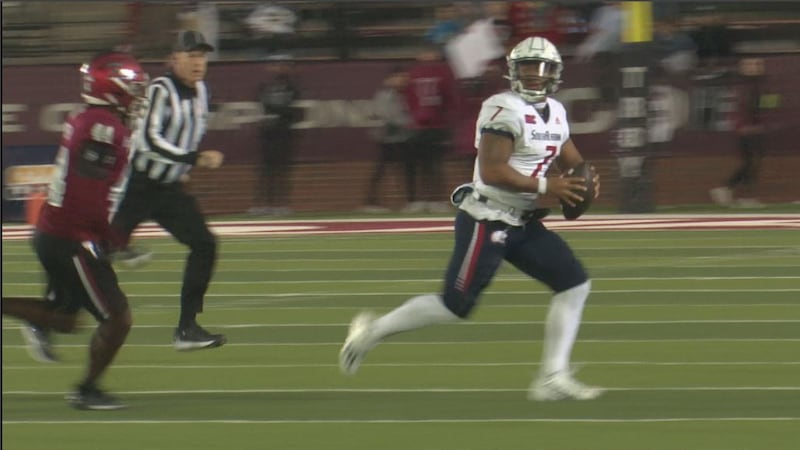 Published: Nov. 2, 2023 at 10:30 PM CDT
TROY, Ala. (WALA) -The South Alabama Jaguars looked to bring the belt back to Mobile for the first time since 2017 and keep pace in the race for the Sun Belt West. The Jags started true freshman quarterback Gio Lopez in place of Carter Bradley who left last week's game against Louisiana with a knee injury late in the 4th quarter.
The Jags defense started hot when Quentin Wilfawn forced an early fumble which was recovered by Jamall Hickbottom. The offense responded with a 6-yard touchdown by La'Damian Webb who now has a nation leading 14 rushing touchdowns on the season.
South's offense would hit a lull in the second quarter and the Trojans responded with two touchdown passes from Gunnar Watson to Chris Lewis. The Jags would add a field goal in the fourth quarter, but that would be their final score of the game. Lewis and Kimani Vidal added touchdowns late in the quarter to seal a 28-10 win for the Trojans.
Lopez finished the game with 155 yards and an interception through the air to go along with 39 yards on the ground. Caulin Lacy had his streak of 7 straight 100 yard receiving games snapped but his 89 yards did take him past the 1,000-yard mark for the season. That makes him the second Jaguar in program history to cross that mark and the first since Jalen Tolbert did it in 2021.
The Jags fall to 4-5 overall and 2-3 in conference play as they get ready to host Arkansas State next week.
Copyright 2023 WALA. All rights reserved.