Mobile County DA closes investigation into relationship between former priest and teen
There are no criminal charges, authorities said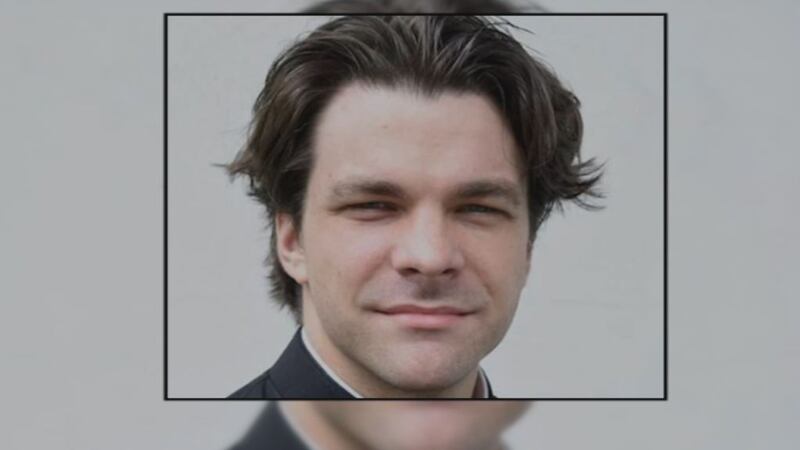 Published: Nov. 6, 2023 at 11:31 AM CST
|
Updated: Nov. 6, 2023 at 3:31 PM CST
MOBILE, Ala. (WALA) - The Mobile County District Attorney's Office has closed the investigation into the sudden disappearance of an 18-year-old female graduate from McGill-Toolen High School and a 30-year-old now-former priest.
In July, the pair went to Italy amid questions about the nature of their relationship. The two have returned to the Mobile area.
Mobile County District Attorney Keith Blackwood released the following statement about ending the investigation:
"The Mobile County District Attorney's Office was asked by the Archdiocese of Mobile to investigate the unusual circumstances surrounding the sudden disappearance of an eighteen-year-old female graduate from McGill-Toolen High School, and a 30-year-old Priest. Until the young lady returned, our office did what it could by interviewing over 30 witnesses and reviewing thousands of pages of documents provided by the Archdiocese, as well as documents recovered from our independent investigation. We spoke to many concerned citizens in the community.
"When the young lady and Priest returned, we subpoenaed the young lady to meet with our office to determine what had occurred, and whether there was any criminal action. She appeared in seemingly good health and said that she is safe. However, she brought an attorney with her to the meeting, and together they declined to answer any questions about the circumstances surrounding her July disappearance, or indeed any other questions.
"Without being able to speak with the young lady about these events, we do not have sufficient admissible evidence to charge a crime at this time. Therefore, this investigation is currently closed.
"As there are no criminal charges at this time, I will not answer any questions about a private relationship between two now-adults. Doing so would undermine the dignity and integrity of this office, and exceed thescope of our mission, which is always to pursue justice."
The Archdiocese of Mobile this morning released a statement regarding reports of former priest Alex Crow's return to the Mobile Area.
Crow has been under scrutiny for months after officials said he left for Italy with an 18-year-old female McGill-Toolen graduate.
This is the statement:
"The Archdiocese of Mobile is relieved to learn that Alex Crow and the young woman with whom he left the country after abandoning his parish may have returned home to the Mobile area. While Crow has not contacted the Archdiocese, numerous individuals and media reports have indicated their return. The Archdiocese would like to remind everyone that Alex Crow has been removed from ministry and his priestly faculties are suspended. Therefore, Crow is not to exercise any ministry as a priest, or present himself as a priest. He is not allowed to celebrate Mass, visit school grounds, or lead any church ministries. If anyone is aware of Crow doing so, they are encouraged to contact the Archdiocese immediately at 251-434-1587.
"While Crow's behavior has been scandalous, the Archdiocese does not have any information to indicate that Crow has committed any crime. To the extent law enforcement is continuing to investigate the circumstances surrounding Crow's behavior, the Archdiocese will continue to cooperate fully. If law enforcement has closed their investigation of Crow, the Archdiocese thanks them for their thorough and thoughtful attention to this matter. Crow's sudden departure created scandal, hurt, and confusion within the Archdiocese. We continue to pray for God's grace to bring healing to this situation for everyone."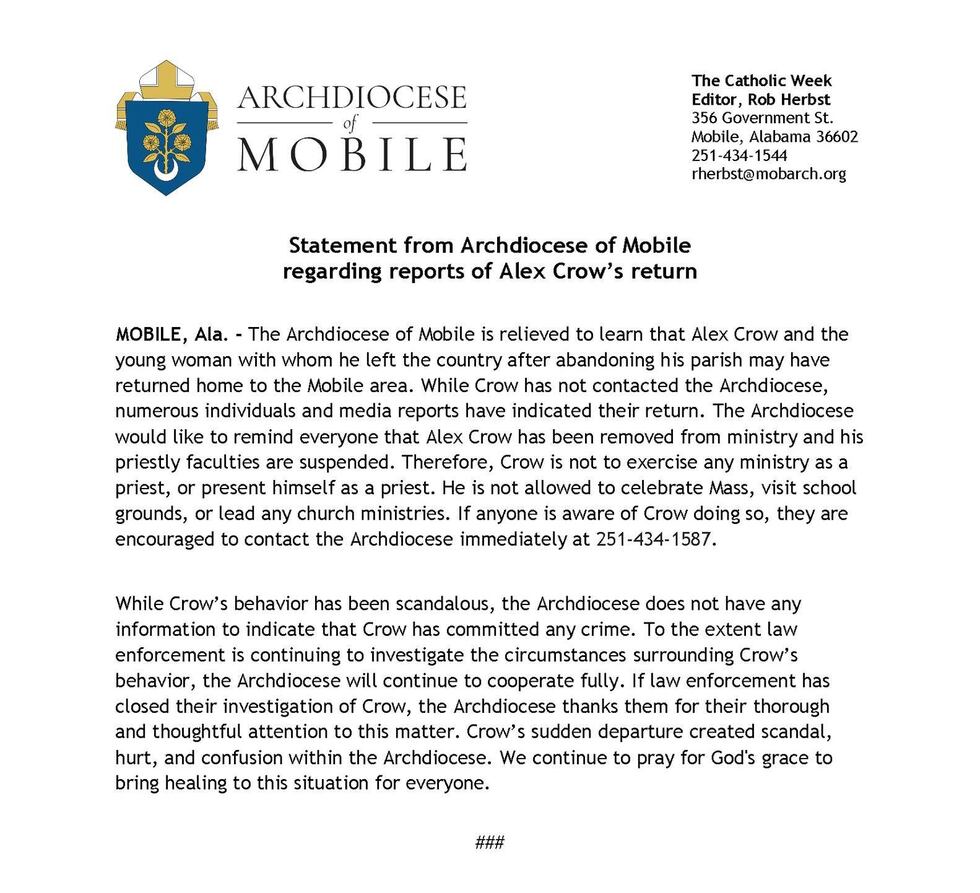 Copyright 2023 WALA. All rights reserved.