Nick Saban named Dodd Trophy Coach of the Week after Tide beats LSU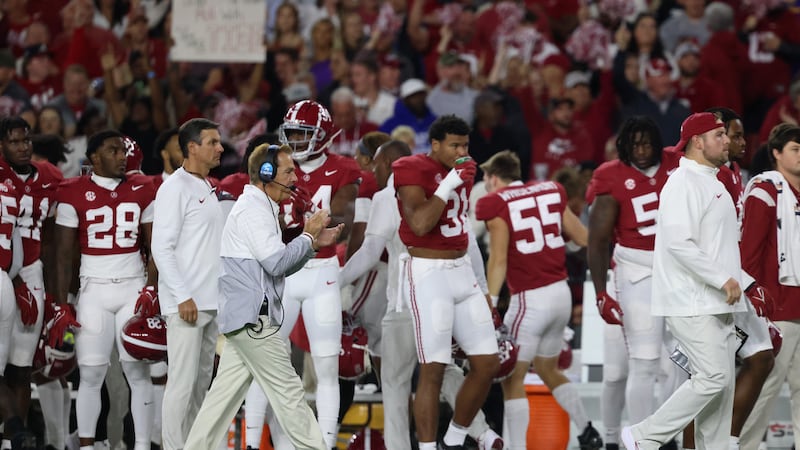 Published: Nov. 6, 2023 at 12:51 PM CST
TUSCALOOSA, Ala. (WBRC) - The Crimson Tide's dominant performance over LSU Saturday night not only broke some records in Tuscaloosa, but the game also earned Nick Saban a Coach of the Week award.
It was announced Monday that Saban has been named this week's Dodd Trophy Coach of the Week.
"Coach Saban has done exactly what coach (Bobby) Dodd did after a disappointing start to a season," said Jim Terry, chairman of the Bobby Dodd Coach of the Year Foundation. "He's improved that team in every phase of the game. Now with seven straight victories, Bama controls its fate in the SEC and is alive for a playoff spot."
After struggling at times earlier in the season, including a home loss to the Big XII's Texas, the Tide's offense exploded against LSU as Jalen Milroe rushed for 167 yards and four touchdowns, a single game record for an Alabama quarterback. The first-year starter also passed for 219 yards.
Alabama (8-1, 6-0) control their own destiny in the Southeastern Conference, firmly in control of the SEC West after the win over the Tigers. The Tide entered Saturday's matchup ranked No. 8 in the country in the College Football Playoff rankings.
Championship contention is not just familiar territory under Saban, it's expected after winning six national titles since arriving at Alabama in 2007.
"Coach Saban is one of the greatest coaches ever to coach the game of football at any level," said Peach Bowl, Inc. CEO and President, Gary Stokan. "He strives for excellence on and off the field, teaching his student-athletes hard work and perseverance on the gridiron, in the classroom and in the community."
Alabama can clench the SEC West with a win over Kentucky this Saturday in Lexington. Kickoff is scheduled for 11 a.m.
Get news alerts in the Apple App Store and Google Play Store or subscribe to our email newsletter here.
Copyright 2023 WBRC. All rights reserved.