76-year-old Prichard woman confesses to killing grandson
Published: Nov. 15, 2023 at 12:18 PM CST
|
Updated: Nov. 17, 2023 at 9:22 PM CST
We've got breaking news about that grandmother accused of shooting her grandson to death at her house in Prichard. FOX10 News obtained new court documents, just a couple of hours ago. They reveal that 76-year-old Mary Jordan shot Dana Jordan because she was upset over something he did the nite before.
This all went down Wednesday morning inside Mary Jordan's home on Circle Drive. The court documents show the 76-year-old confessed to the crime. Police say she shot Dana Jordan several times and he was dead when officers arrived at the house around 11.
Mary Jordan had her bond set at 100 thousand dollars today. According to the documents, she may have dementia and she has no criminal history.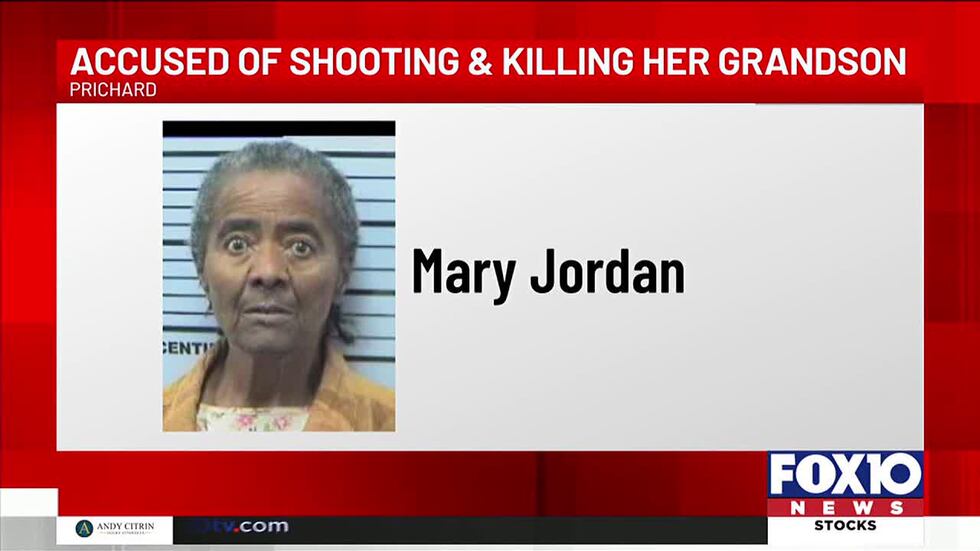 PRICHARD, Ala. (WALA) - Police in Prichard are investigating a shooting today on Circle Drive that led to the death of the victim allegedly at the hands of his 76-year-old grandmother, who has been booked on a murder charge.
According to Prichard Public Service Director TJ Pettway, officer responded to the 400 block of Circle Drive around 11 a.m. a report of one shot. Detectives with the Major Crimes Unit and emergency medical responders found the victim dead from multiple gunshot wounds, Pettway said.
Investigators believe that an altercation between the victim, identified as Dana Jordan, and his grandmother, Mary Alice Jordan, authorities said. Mary Jordan is charged with murder.
According to jail records, she has a bond hearing scheduled Sunday.
Copyright 2023 WALA. All rights reserved.