Florida State QB Jordan Travis releases statement following leg injury, announces end of Seminole career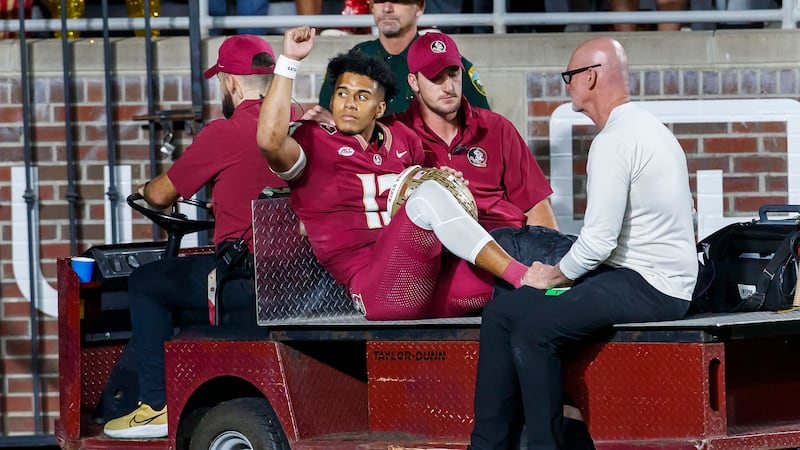 Published: Nov. 18, 2023 at 6:53 PM CST
TALLAHASSEE, Fla. (WCTV) - Florida State's Jordan Travis (QB) released a statement Monday morning, addressing a leg injury he sustained during a Saturday night game that caused his Seminole playing career to end.
Travis was carted off the football field after sustaining the injury during the first quarter against FCS team North Alabama.
In the Monday-released statement, Travis not only mentioned that the injury marked the end of his Seminole career, but he also thanked teammates, coaches, the Florida State community and more for their support.
The statement read:
Florida State head coach Mike Norvell said during a Monday press conference that everybody was concerned for Jordan throughout the game, calling the season-ending injury incident devastating.
"Jordan will be talked about forever in this program," said Norvell. "It's not just going to be about his playing ability, it's going to be about who he is."
Norvell also addressed the Seminoles' upcoming Saturday (Nov. 25) game against Florida, expressing that he's excited to see everyone play despite the recent unexpected challenge.
"Everything that we have is going into this week," said Norvell. "All the challenges, all the adversity that's ahead, we have a team that embraces that."
With 1:57 left in the quarter during Saturday's game, Travis took a direct snap from FSU's own 30-yard line and ran with the ball out to the 50-yard line when he was tackled and wrapped up by North Alabama's Shaun Myers. Travis immediately reached down to his left leg as his teammates sprinted to his aid. Travis was on the field being helped by medical personnel for roughly five minutes before being taken to a waiting ambulance on the side of the field.
Travis was replaced by Valdosta, Ga. native and backup quarterback Tate Rodemaker.
Jordan Travis, who is a senior, has had 2,734 total yards with 20 touchdowns in 2023.
Travis is currently listed as fourth on ESPN's 2023 Heisman Trophy candidate tracker with an overall odds of winning at +800.
To stay up to date on all the latest news as it develops, follow WCTV on Facebook and X (Twitter).
Have a news tip or see an error that needs correction? Write us here. Please include the article's headline in your message.
Keep up with all the biggest headlines on the WCTV News app. Click here to download it now.
Copyright 2023 WCTV. All rights reserved.