Troy hangs on to defeat Louisiana in thrilling Sun-Belt showdown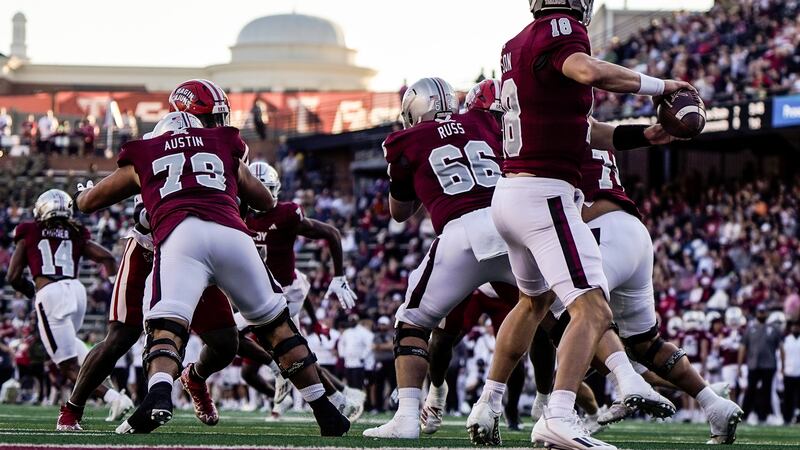 Published: Nov. 18, 2023 at 6:03 PM CST
TROY, Ala. (WSFA) - Troy welcomed in the Louisiana Ragin' Cajuns on Saturday afternoon for what turned out to be a thrilling Sun-Belt Conference showdown. At the end of the day, it was Troy coming out on top by a score of 31-24.
The Ragin' Cajuns found the endzone first in this one when Chandler Fields found an open Robert Williams for the game's first points.
The Trojans answered back with a 44-yard field goal on the ensuing drive to cut the lead down to four.
After Louisiana added a field goal of their own, the Trojan offense came to life. It only took three plays to move 63 yards downfield. To get things going, Gunnar Watson found a wide-open Jabre Barber for 43 yards. Two plays later, Kimani Vidal broke lose for 13 yards into the endzone to tie the game up at 10.
Troy took their first lead of the game in the closing seconds of the first half when Watson found Clayton Ollendieck for a one-yard score, and the Trojans went into the locker room up 17-10 at the half.
It would not be until the fourth quarter that any more points went up on the scoreboard. Fields tied the game up for Louisiana when he connected with Neal Johnson on 3rd and goal from the four-yard line.
Troy answered right back on the ensuing drive, storming 83 yards in 14 plays en route to the endzone. Watson threw his third touchdown pass of the day when he connected with Chris Lewis for a nine-yard score.
With just over seven minutes remaining, Louisiana tied the game right back up thanks to a Fields touchdown pass to Terrance Carter. However, Troy had an answer when the offense took the field. Watson found Jabre Barber open in the endzone, and the Trojans were back up by seven.
The Troy defense forced a three-and-out on Louisiana's next offensive possession, effectively ending the game. The Trojans took the ball back with just over two minutes remaining and ran the clock out, securing their eighth straight win.
Troy will travel to Mississippi to take on Southern Miss next Saturday at 11 a.m. to close out the regular season.
Not reading this story on the WSFA News App? Get news alerts FASTER and FREE in the Apple App Store and the Google Play Store!
Copyright 2023 WSFA. All rights reserved.